Pompeo Pushes Back Against North Korean Sanctions-Relief Claims
(Bloomberg) -- Secretary of State Mike Pompeo emphasized that Kim Jong Un wouldn't receive sanctions relief until after its complete disarmament, pushing back against North Korean suggestions that the U.S. would soon begin relaxing penalties.
Pompeo -- sharing a podium in Seoul with his Japanese and South Korean counterparts -- was asked Thursday about North Korean claims that Trump had committed to a "step-by-step" process and "expressed his intention" to lift sanctions. Those assertions appear to contradict Trump's pledge to keep penalties in place until Kim's nuclear weapons "are no longer a factor."
"Chairman Kim Jong Un understands the urgency of the timing of completing this denuclearization, and understands we must do this quickly," Pompeo told reporters. "And the sanctions relief cannot take place until such time as we have demonstrated that North Korea has been completely denuclearized."
Trump has come under increasing criticism because the 1 1/2-page statement that he and Kim signed Tuesday in Singapore spelled out no specific North Korean commitments besides working toward the "complete denuclearization of the Korean Peninsula," a promise the regime has repeatedly made and broken since the 1990s. The president raised more questions after declaring upon his return to the U.S. that there was "no longer a Nuclear Threat from North Korea."
Pompeo met with foreign ministers Taro Kono of Japan and Kang Kyung-wha of South Korea in Seoul on Thursday and was scheduled to continue on to Beijing, as part of a series of briefings on the summit outcomes.
For weeks, Pompeo and other officials have insisted North Korea must agree to "complete, verifiable, irreversible denuclearization" before economic sanctions can be lifted. Pompeo told reporters that the language used in the document encompassed those demands, even though they weren't spelled out.
"The summit created this enormous historic opportunity for us to move forward and will fundamentally really shape the relationship between the United States and North Korea," Pompeo said Thursday. "Verification is essential to that. 'Complete denuclearization' certainly encompasses that idea very clearly."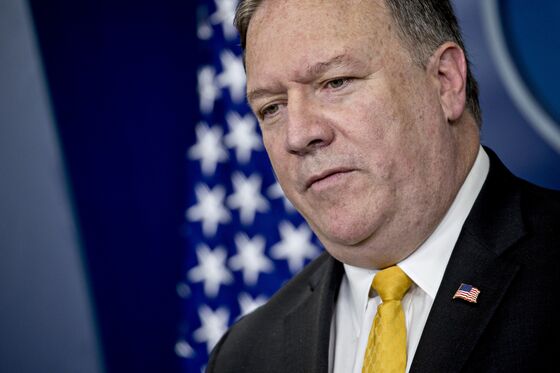 After his arrival in Seoul on Wednesday, Pompeo said he expected that North Korea would take major steps toward nuclear disarmament during Trump's first term. U.S. defense analysts have said Kim retains as many as 60 nuclear bombs and a range of missiles, including some he says can strike the U.S.
"We're hopeful that we can achieve that in, what was it, the next two and half years," the top American diplomat said when asked how soon the U.S. wanted to see North Korea move to dismantle its nuclear weapons program. "We're hopeful we can get it done. There's a lot of work left to do."
Bridling at a question Wednesday from a reporter who asked why the summit document didn't mention complete and verifiable denuclearization, Pompeo said, "I find that question insulting and ridiculous and frankly ludicrous. I just have to be honest with you, it's a game, it's a game, and one ought not play games with serious matters like this."
The lack of details contributed to an air of skepticism in Washington about what Trump accomplished. While the president won general praise for talking to Kim -- instead of tweeting at him -- even some Republicans were grasping for concrete takeaways and sounding cautious.
"It's important that we don't lose sight of the fact that Kim Jong Un is a butcher and he is a butcher of his own people," Senator John Kennedy, a Louisiana Republican, said Tuesday. "Trying to reason with someone like that is like trying to hand feed a shark. Doesn't mean you can't do it, but you've got to do it very, very carefully."
Trump also drew criticism for announcing he was ending joint "war games" with South Korea, embracing the frequent North Korean criticism that the exercises are "very provocative."
"Our understanding is that what the President Trump said after his deep consultation with Chairman Kim Jong Un is aimed at strengthening the budding dialogue momentum between South and North Korea," Kang said.
Pompeo said Wednesday that Trump "made it very clear that the condition precedent for the exercises not to proceed was productive, good-faith negotiations being ongoing. And at the point that it's concluded they are not, the president's commitment to not have those joint exercises take place will no longer be in effect."
While saying Trump is "in the lead" on follow-up negotiations, Pompeo said, "I will be the person driving this process forward." He predicted he will have his next conversation with the North Koreans "fairly quickly after we return to our home countries" and within "the next week or so."