Pompeo Plans North Korea Trip Next Month After Meeting Kim Aide
(Bloomberg) -- U.S. Secretary of State Michael Pompeo met North Korea's foreign minister in New York Wednesday and agreed to travel to Pyongyang next month as the two sides continue to prepare for a second summit between President Donald Trump and Chairman Kim Jong Un.
Pompeo tweeted that he had a "very positive meeting" with Foreign Minister Ri Yong Ho on the sidelines of the United Nations General Assembly event. "Much work remains, but we will continue to move forward," he wrote in the tweet, which included a photograph of the pair shaking hands and smiling.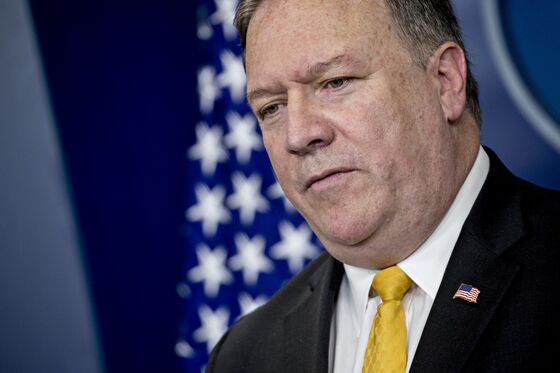 Pompeo's meeting with Ri appeared to have taken place while Trump was chairing a UN Security Council meeting on nonproliferation at the world body's headquarters in New York. Pompeo left his seat behind Trump around the council's horseshoe-shaped table and then returned about a half-hour later.
The secretary accepted Kim's invitation to travel to Pyongyang next month as the two sides make progress toward the "final, fully verified denuclearization of the DPRK," State Department spokeswoman Heather Nauert said, referring to North Korea by its official name, the Democratic People's Republic of North Korea
Pompeo's meeting with Ri wasn't a surprise: he had praised the outcome of a summit between North Korean and South Korean leaders in Pyongyang last week and said he expected to meet North Korean officials during the UN event. A reaffirmation at that summit of North Korea's professed desire to give up its nuclear weapons appeared to jump-start progress in talks between the U.S. and North Korea that had stalled in recent weeks.
Trump and Kim met in Singapore in June and afterward released a joint declaration that was criticized for its lack of detail and the fact that North Korea had made no commitments that it hadn't promised -- and reneged upon -- many times before.
The U.S. argues that progress continues to be made toward the goal of denuclearization, which Pompeo says he wants to achieve by the end of Trump's first term in January 2021. Speaking on CBS This Morning on Wednesday, Pompeo said North Korea had agreed to allow inspections, though he didn't specify what they would look like.
"We're working our way toward making sure this verification that we have talked about since the beginning," Pompeo said. "We're not going to buy a pig in a poke. We're going to get this right."