Pompeo Accuses China of 'Genocide,' With Support From Successor
(Bloomberg) -- U.S. Secretary of State Michael Pompeo designated China's crackdown on Uighurs and other minorities in the Xinjiang region as genocide, an escalation in tensions that was quickly endorsed by President-elect Joe Biden's nominee to replace him.
"I believe this genocide is ongoing, and that we are witnessing the systematic attempt to destroy Uighurs by the Chinese party-state," Pompeo said in a statement Tuesday. He said the country's leaders "have made clear that they are engaged in the forced assimilation and eventual erasure of a vulnerable ethnic and religious minority group."
Pompeo cited sterilizations, indefinite detention and forced labor in Xinjiang and called on "relevant judicial bodies" to hold those responsible to account. The Trump administration has repeatedly leveled sanctions on China over its treatment of Uighurs, and the designation had been widely expected.
The Chinese Embassy in Washington denounced the move as a "gross interference in China's internal affairs and a serious violation of international law and basic norms" of international relations. "The Chinese side expresses its strong concern and firm opposition to it," the embassy said.
While Trump and Pompeo are leaving office Wednesday, Biden's nominee for secretary of state Antony Blinken backed the move Tuesday. The former deputy secretary of state under President Barack Obama told a confirmation hearing in Washington that he shared Pompeo's view on genocide in Xinjiang.
"That would be my judgment as well," Blinken said in response to a question from Senator Lindsey Graham, a Republican from South Carolina.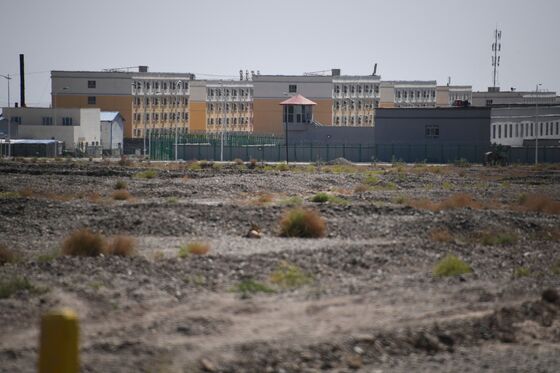 The Trump administration has ratcheted up pressure on China over its Xinjiang policies in recent months, barring the region's tomatoes and cotton products from entry into the U.S. last week. The Trump administration has also sanctioned scores of Chinese companies and Communist Party officials over their connection to the region, including Xinjiang party chief Chen Quanguo.
Calls for similar action are growing in the U.K., where Prime Minister Boris Johnson narrowly defeated a rebellion by members of his own party who wanted to empower British judges to rule whether the Uighurs are suffering genocide. In Europe, lawmakers are calling for greater protections against forced labor to be added to an investment pact with China.
Xinjiang, a remote inland region roughly the size of the U.S. state of Alaska, produces one-fifth of the world's cotton. The U.S. imported $9 billion of cotton products in the past year and $10 million of tomatoes from China, said Brenda Smith, the executive assistant commissioner in the office of trade at CBP.
Since a wave of violent terrorist attacks blamed on Uighurs in 2014, China has detained between tens of thousands and "upwards of 1 million" ethnic minorities in Xinjiang, according to a United Nations assessment. Subsequent reports have accused the country of relocating Uighurs to work in factories and on farms far from their homes and forcing women to use birth control or abort pregnancies.
China has repeatedly denied that genocide is taking place in Xinjiang, accusing Western nations of hypocrisy for disregarding their own ethnic policies, such as the U.S.'s treatment of blacks and Native Americans. Officials in Beijing have argued that reports underpinning most of the genocide claims are "fabricated" or "laced with data tampering."
The episode shows how human rights disputes could become even more of an issue between China and the U.S. after Biden takes office. Former National Security Adviser John Bolton said in his book, "The Room Where It Happened," that Trump told Chinese President Xi Jinping in 2019 that imprisoning the Uighurs was "exactly the right thing to do." Trump has denied that claim.
In a statement last August, Biden spokesman Andrew Bates said China's treatment of Uighurs was genocide and that Biden "stands against it in the strongest terms."