Pompeo Departs North Korea Without Any Breakthroughs
(Bloomberg) -- U.S. Secretary of State Mike Pompeo left Pyongyang on Saturday without immediately announcing any breakthroughs in efforts to implement North Korean leader Kim Jong Un's agreement with President Donald Trump.
Pompeo held two days of meetings with senior North Korean officials led by top Kim aide, Kim Yong Chol, on concerns ranging from the regime's nuclear arsenal to U.S. security guarantees. It was unclear if the secretary of state met Kim Jong Un, as he did on his previous two visits to the isolated nation's capital.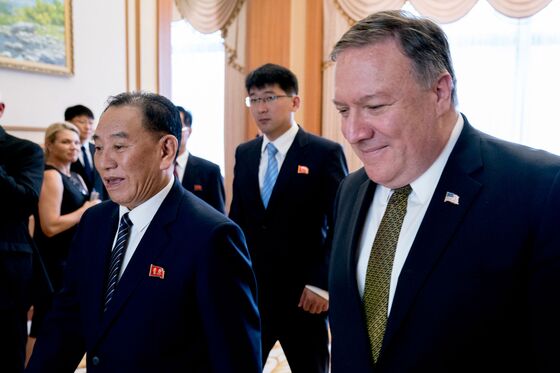 Pompeo was scheduled to arrive in Tokyo around 6:30 p.m. Saturday local time, or 5:30 a.m. in Washington. He spoke by phone with Trump earlier Saturday and was expected to brief his Japanese and South Korean counterparts on the results of the trip during a series of meetings Sunday.
Before events in Pyongyang had concluded, State Department spokeswoman Heather Nauert told reporters that Pompeo had been "very firm" in insisting that North Korea fulfills its commitment to "complete denuclearization." She said the two sides had also discussed the return of the remains of American troops killed during the Korean War.
Pompeo's visit represents the highest level meeting between U.S. and North Korean officials since Trump and Kim Jong Un held their unprecedented summit in Singapore on June 12. The secretary is under pressure to deliver a more concrete disarmament plan after the two leaders signed a vague 1-1/2 page document that didn't provide a timetable for dismantling North Korea's nuclear arsenal.
Trump has declared that North Korea was "no longer a nuclear threat" and said Americans can "sleep well," even though the regime holds as many as 60 nuclear bombs and missiles that could reach the U.S.
"Trump tried to sell this as a quickly achievable deal to denuclearize and now Pompeo and team are tasked with the impossible task of pushing forward on denuclearization without a shared understanding with Pyongyang," said Stephen Nagy, a senior associate professor at the International Christian University in Tokyo.
Before Pompeo's meeting with Kim Yong Chol there were hints of disagreements between the two sides. When his North Korean host suggested that Pompeo might have slept poorly after the prior day's "very serious discussion," the secretary assured him he had.
Kim Yong Chol then said that there were still issues that needed to be made clear. "There are things that I have to clarify, as well," Pompeo replied.
Pompeo struck a cautious note while en route to Pyongyang, saying he was hoping to "fill in some details" on Kim Jong Un's commitments. Before arriving, he also said in a tweet that he hoped to achieve North Korea's "final, fully verified denuclearization" -- raising questions whether the administration had softened its longstanding goal of "complete, verifiable and irreversible denuclearization."
"Our policy hasn't changed," Nauert said Saturday when asked about the shift. "Our expectation is exactly what the president and Kim Jong Un jointly agreed to in Singapore, and that is the denuclearization of North Korea."
Expectations for the trip grew in recent days with reports indicating that North Korea continued to ramp up its weapons production before the summit with Trump. The reports published by independent researchers and media organizations detailed efforts to increase fuel production, build more missile launchers and expand a key rocket-engine manufacturing facility.
Pompeo's "tweet is an effort to maintain or deepen diplomatic momentum to keep talks going, develop trust and communication lines and try to extract some concessions from Pyongyang in return for further concessions from the U.S.," Nagy said.
The U.S. is also seeking to repatriate the remains of American soldiers missing in North Korea for almost 70 years. North Korea is holding about 200 sets of remains from among the some 5,300 American military personnel believed still lost in the country during the Korean War, according to Department of Defense estimates.
Among Pompeo's delegation were seasoned North Korea negotiators including National Security Council official Allison Hooker, Central Intelligence Agency officer Andy Kim and Sung Kim, the U.S. ambassador to the Philippines.
The trip comes at the start of a week of travel for Pompeo, who continues on to Hanoi, Abu Dhabi and Brussels, where he's scheduled to accompany Trump to an annual summit of the NATO alliance.