Pompeo's Refusal to Explain Key Firing Lets Pelosi Get in a Jab
(Bloomberg) -- Michael Pompeo is defending the firing of the State Department's inspector general but refuses to give any details, fueling questions about probes the watchdog was conducting and demonstrating anew the secretary of state's distaste for explaining controversial decisions publicly.
House Speaker Nancy Pelosi added to the criticism on Thursday, calling the firing "scandalous," a day after a defiant Pompeo told reporters that he wished he'd asked President Donald Trump to dismiss Inspector General Steve Linick sooner. He declined to give a specific reason, saying he wouldn't discuss personnel issues.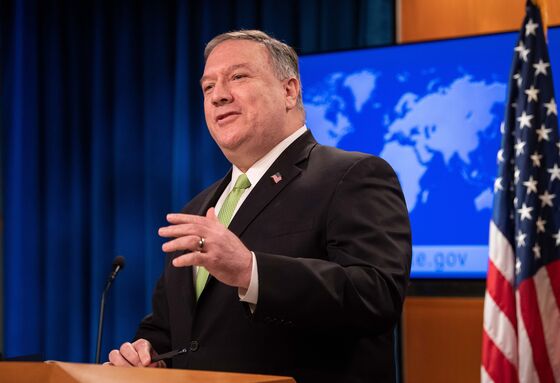 The lack of an explanation has prompted Democrats to point out the different inquiries Linick had underway that could have embarrassed Pompeo, from an examination into the legality of a 2019 arms deal with Saudi Arabia to allegations that Pompeo and his wife used department staff and security agents for personal tasks such as dog-walking and laundry pickup.
Pompeo -- who as a lawmaker famously berated Secretary of State Hillary Clinton for supposed cover-ups and lack of transparency -- dismissed the accusations as "all crazy stuff" and denied the ouster of Linick was retaliation for legitimate inquiries.
"This is a demonstration of the power, the fear that this administration has of the truth," Pelosi said in an interview Thursday with Bloomberg Television. "It's just wrong, it's scandalous really -- and we want to know why."
The dust-up has thrust America's top diplomat back into the spotlight over his leadership style, an issue that last came to the fore when he refused to publicly defend Marie Yovanovitch, who was removed from her post as the U.S. ambassador to Ukraine after she was the subject of a smear campaign by Trump's personal lawyer Rudy Giuliani.
The latest moves uncorked a fresh torrent of criticism for a secretary whose standing has taken a hit among career diplomats because of broader concerns, including his use of department resources for what appear to be domestic political purposes and his unbridled partisanship.
"The firing of the inspector general without any really serious attempt to put forward an explanation for that begs the question of what Secretary Pompeo is hiding," said Noah Bookbinder, executive director at Citizens for Responsibility and Ethics in Washington. "He's undercutting any possibility of oversight and accountability in getting to the bottom of the issues."
During the brief news conference on Wednesday, Pompeo also flashed the temper that drew wide attention in January when he lashed out in an expletive-filled exchange at an NPR reporter who questioned him repeatedly about Yovanovitch's firing.
Current and former employees have described an atmosphere of anxiety over Pompeo's short fuse, saying his staff struggles to strike a balance between two competing traits -- his loathing for being late and his impatience with even small gaps in a schedule that he divides into 15-minute increments.
It's behavior at odds with Pompeo's public vows of modesty. The West Point graduate, who keeps a Bible on his desk, said in a speech in October on "Being a Christian Leader" that "high standards for excellence" must be tempered by humility.
"I'm sure some will go find the video clip where I didn't quite live up to that during my time in Congress," Pompeo said in a later speech. "I am an imperfect soul, for sure."
Pompeo's motivations have long raised questions among career staff at the State Department because his advisers have acknowledged he might run for higher office -- whether for a U.S. Senate seat representing his adopted home state of Kansas or the White House in 2024.
Pompeo's steady stream of interviews with largely conservative radio and television stations, frequent trips to Kansas for events not tied to foreign policy and his meetings and dinners with Republican donors -- many of which were kept off his public schedule -- add to those questions. Although he dismissed plans to run for the Senate seat earlier this year, the state's filing deadline in June gives him time to reconsider.
On Tuesday, NBC News reported details of Pompeo's frequent hosting of what he calls "Madison Dinners," in which the secretary and his wife invite conservative donors and business executives to regular dinners at the State Department along with relatively few foreign ambassadors.
Pompeo's press briefing on Wednesday showed he has little patience for continued questioning about the Linick firing.
He unleashed a fusillade on a familiar sparring partner, Senator Bob Menendez, the top Democrat on the Foreign Relations Committee, who has been a vocal critic of Pompeo's handling of the Linick firing.
"I don't get my ethics guidance from a man who was criminally prosecuted," Pompeo said, referring to bribery charges Menendez faced in New Jersey in 2017. The Justice Department dropped the case.
To dispel any doubt that he had come prepared for the question, Pompeo added: "Case number 15-155, New Jersey federal district court."
Pompeo has previously broken with customary diplomatic niceties through his vociferous and open criticism of former President Barack Obama and of his predecessors Clinton and John Kerry. He excoriated Obama during a speech in Cairo in early 2019, casting the former president as naive for saying the U.S. and the Muslim world needed "a new beginning."
Yet it's also clear that Pompeo has support in the one place that matters: the Oval Office. Trump dismissed questions about whether he thinks Pompeo should face criticism over the use of staff for personal reasons.
"Now I have you telling me about dog-walking, washing dishes," Trump said to reporters on Monday. "I'd rather have him on the phone with some world leader than have him wash dishes because maybe his wife isn't there."