Pompeo Calls the U.S. a 'Force for Good' in Middle East Speech
(Bloomberg) -- Secretary of State Michael Pompeo accused the Obama administration of underestimating the threat posed by Islamic extremism and Iran, delivering a speech in Cairo sharply criticizing President Donald Trump's predecessor and declaring the U.S. a "force for good" in the region.
Pompeo, speaking to an audience at the American University of Cairo on Thursday, said the Arab world must do more in the fight against extremism, reiterated U.S. support for Israel and declared that America isn't interested in keeping its troops in the Middle East permanently. He also sought to reassure the region about the administration's commitment after Trump announced he was withdrawing troops from Syria.
But the heart of the speech was a scathing attack on former President Barack Obama -- and especially a speech he gave in the same city in 2009 that sought to bridge gaps between the U.S. and the Muslim world and reverse decades of hostility toward Iran.
"The good news is this: The age of self-inflicted American shame is over, and so are the policies that produced so much needless suffering," Pompeo said.
"In just 24 months, the United States under President Trump has reasserted its traditional role as a force for good in this region," Pompeo said. "We have rediscovered our voice. We have rebuilt our relationships. We have rejected false overtures from enemies."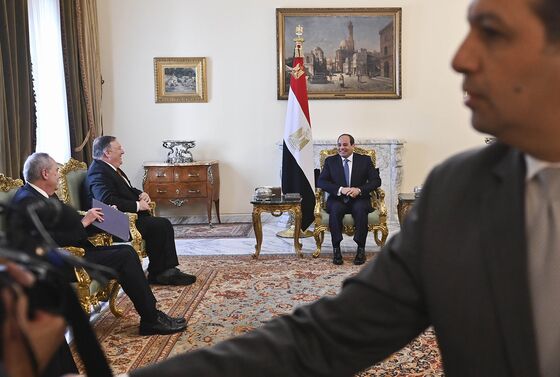 While Obama's Cairo speech implicitly criticized President George W. Bush's 2003 invasion of Iraq and the charting of a new direction in U.S. policy, Pompeo was far more direct in his attack. He didn't mention Obama by name, referring to him instead as "another American."
Supporters of Obama's vision for the Middle East struck back at Pompeo's criticism.
"That this administration feels the need, nearly a decade later, to take potshots at an effort to identify common ground between the Arab world and the West speaks not only to the Trump administration's pettiness but also to its lack of a strategic vision for America's role in the region and its abdication of America's values," the group National Security Action said in a statement. Its co-chairman is Ben Rhodes, a former Obama adviser who helped write his Cairo speech.
Pompeo, who is on a week-long swing through the region, said U.S. has "always been a liberating force, not an occupying power." He renewed the administration's broadsides against Iran, which Trump regards as the primary source of instability in the Middle East.
The top U.S. diplomat also tried to dispel confusion over U.S. policy after Trump announced last month he's pulling troops out of Syria "now," and that Islamic State has been defeated. Trump soon backtracked to emphasize that the withdrawal will come "slowly" and the fight against the terrorist group will continue. The mixed messages have exacerbated strained relations with NATO ally Turkey and raised questions about whether the U.S. departure will bolster Iran and Russia as major influences in the region.
Pompeo reaffirmed that Trump's focus in the Middle East is countering Iran. Trump quit the 2015 Iran nuclear accord last May, arguing that it failed to halt the country's march toward a nuclear weapon and did nothing to limit its other "malign activity" -- such as funding terrorist groups and sending proxy fighters to Syria.
The U.S. has since reimposed a raft of crippling sanctions against Tehran despite an outcry from European allies and other countries that agreed to the accord. Pompeo has set out a 12-step plan that he says Iran must complete before sanctions are lifted. Leaders in the country have rejected that idea.
The speech continued the Trump administration's downplaying of human rights issues in its dealings with leaders it supports. Pompeo encouraged Egyptian President Abdel-Fattah El-Sisi to "unleash the creative energies of Egypt's people" but made no mention of concerns over the authoritarian leader's crackdown on dissent.
As he did during a speech in Brussels in December, when he questioned the value of the European Union and other international organizations, Pompeo cast himself as the teller of unvarnished truths, no matter how unpopular they may be.
"It is a truth that isn't often spoken in this part of the world, but I'm a military man by training, so I'll put it bluntly: America is a force for good in the Middle East," Pompeo said. "Period."