Pompeo Says Killing of Iranian General Reduced Risks to U.S.
(Bloomberg) -- Secretary of State Michael Pompeo defended the Trump administration's Mideast policy and the targeted killing of Iranian General Qassem Soleimani last month during a contentious hearing with House lawmakers Friday.
"He was the regime's top terrorist" and "removing him from the battlefield was a de-escalatory measure," Pompeo told the House Foreign Affairs Committee. He said that in the end, the strike "reduced risks to Americans."
But Representative Eliot Engel, the New York Democrat who's chairman of the panel, said "Iran is again pushing headlong toward a nuclear weapon. You promised the American people that they would be safer and Iran would be deterred. So by your own metrics, this policy has been a failure."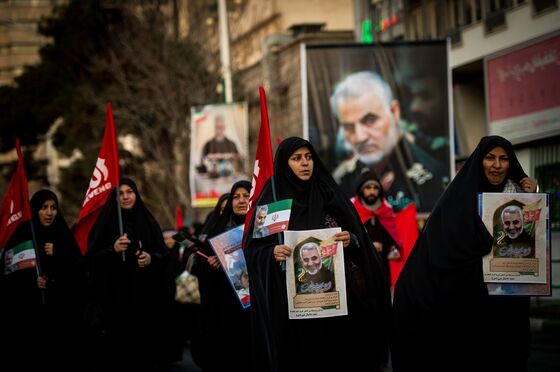 Pompeo won support from Representative Michael McCaul of Texas, the committee's top Republican, who said that if Trump didn't order the killing of the general "we might be having a different hearing on why he didn't stop the deaths of more Americans." McCaul said "this strike was necessary and well within the president's authorities."
Though the hearing was meant to focus on Mideast policy, Pompeo's appearance on Capitol Hill marked the first time he has testified publicly to lawmakers since the State Department found itself at the center of President Donald Trump's impeachment saga.
Pompeo has been criticized by Democrats about his refusal to provide documents to the House committee investigating the president, or to voice public support for career officials including former Ukraine Ambassador Marie Yovanovitch, who was ousted from her position and testified despite State Department orders that she and others refuse to cooperate.
Democrats denounced Pompeo for limiting his appearance Friday to two hours, compared with the 11 hours of questioning that former Secretary of State Hillary Clinton endured when Pompeo was a leader of the House's Benghazi investigation. Representative Brad Sherman of California angrily demanded "whether you'll come here next week" to testify on the coronavirus epidemic. Pompeo said only that he would consult with the committee.
Republicans pushed back forcefully on Democratic criticism of the administration's Mideast policy. Florida Representative Brian Mast, an Army veteran who was seriously injured in Afghanistan, asked whether any Democrats would say they wished Soleimani was still alive.
"Shame on you for asking that question," said Rhode Island Democrat David Cicilline, who had earlier suggested that Americans no longer trusted the administration because of its "blatant disregard for facts."
"This hearing has been a joke," Republican Representative Lee Zeldin said, complaining that Democrats would not let Pompeo answer any questions. "It's an embarrassment."
The Middle East debate at the hearing involves the continued American military presence in the region, where Trump has sent more than 15,000 additional troops to bolster pressure on Iran since May last year.
Pompeo's most recent appearances on Capitol Hill were for closed briefings to lawmakers in January following a U.S. drone strike that killed General Soleimani, the leader of Iran's elite Qods Force who the administration blamed for fomenting unrest that led to an American's death in Iraq.
Those briefings incensed libertarian-minded Republican Senators Mike Lee and Rand Paul. They protested the dismissal of their concerns about congressional authorization for acts of war and pressed for a vote on legislation rebuking the administration and barring any military action against Iran without express authorization from Congress.
That bill, introduced by Senator Tim Kaine, passed the Senate 55-45 this month. The House is expected to take it up in coming weeks.
Pompeo's appearance also comes as the administration is facing increased scrutiny over a peace deal with the Taliban in Afghanistan scheduled to be signed on Saturday in Qatar.
Several House Republicans, led by Representative Liz Cheney, wrote to Pompeo this week expressing concern about the peace deal, urging him to provide assurances that he will not "place the security of the American people into the hands of the Taliban," and to make details of the deal public.
"The safety of the American people is inextricably linked to this deal," the lawmakers, including members of the Foreign Affairs and Armed Services Committees, wrote. "They deserve to know its details."