Pompeo Affirms U.S. Support for Ukraine as Trump Trial Continues
(Bloomberg) -- U.S. Secretary of State Michael Pompeo sought to reassure Ukraine that it retains America's unwavering support, despite President Donald Trump's impeachment saga and his own recent remarks about the eastern European nation.
"Ukraine is an important country," Pompeo said Friday in Kyiv alongside Ukraine President Volodymyr Zelenskiy. He called the nation a "bulwark between freedom and authoritarianism."
The top U.S. diplomat is visiting Kyiv as Trump's impeachment trial in the Senate continues following revelations last year that the president withheld military aid to pressure Ukraine into investigating the family of former Vice President Joe Biden, a potential rival in the 2020 election.
Pompeo will continue on to Belarus, Kazakhstan and Uzbekistan starting Saturday.
Despite his public support of the U.S.-Ukraine alliance, American backing for Kyiv has also been questioned because of Pompeo's own recent comments. In an exchange reported by a National Public Radio journalist last week, Pompeo asked derisively if she thought Americans really cared about Ukraine.
In an interview with Bloomberg Television on Jan. 22, Pompeo said the U.S. remains committed to stamping out corruption in Ukraine and denied that Trump's personal lawyer Rudy Giuliani oversaw a shadow foreign policy toward the country, a central dispute in the impeachment trial.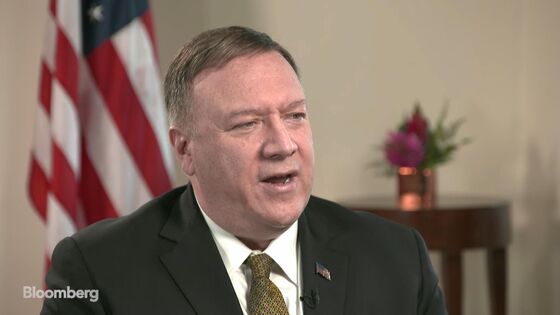 "The foreign policy we were executing then is the same foreign policy we are executing today," Pompeo said. He added that "Ukraine sits at the edge between democracy and tyranny in the easternmost part of Europe."
Ukraine relies on the U.S. for political, financial and military assistance as it battles Kremlin-backed forces in a conflict that erupted after President Vladimir Putin annexed Crimea in 2014.
Pompeo said U.S. and Ukrainian officials would find a right time for Zelenskiy to visit the White House and that no investigations would be necessary as a pre-condition.
Pompeo postponed a planned visit to Kyiv earlier this month following an attack on the U.S. embassy in Baghdad. His visit comes as Trump continues to insist it was Ukraine -- not Russia -- that interfered in the 2016 election that propelled him to the presidency.
Trump and his defenders point out that the $391 million in aid was eventually freed -- the holdup was later determined to have been illegal -- and that the administration has provided lethal weapons including Javelin anti-tank missiles as part of its support for Ukraine, something the Obama administration declined to do.