Boston Makes History; Round One in Minneapolis: Election Update
(Bloomberg) -- New York City elected Democrat Eric Adams as its next mayor, defeating his Republican challenger, Curtis Sliwa. Adams, the Brooklyn borough president and a retired police captain, is set to become the second Black mayor in the city's history.
A fiercely contested gubernatorial contest in Virginia is being decided on Tuesday, while in New Jersey an incumbent is fighting to protect his lead. Although it's an off-year election in the U.S., both the Republican and Democratic parties have been watching the two races for implications for next year's midterm elections that will decide control of the House and Senate.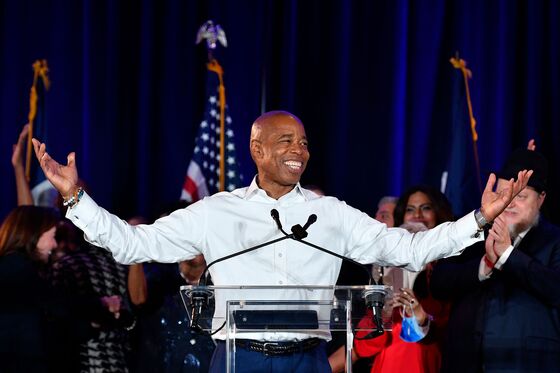 This Election Day is the first since Joe Biden, a Democrat, became president. With his approval ratings in decline and Congress yet to approve his economic agenda, Republican victories are possible in either state. 
Republican Glenn Youngkin maintained a lead over former Virginia Governor Terry McAuliffe, a Democrat, in the state's most expensive gubernatorial race ever. In New Jersey, first-term Democratic Governor Phil Murphy also held an early lead against the GOP's Jack Ciattarelli, an ex-state lawmaker, according to the Associated Press.
Key stories and developments:
All times are Eastern Daylight:
Atlanta Race Going to a Runoff (11:30 p.m.)
The mayoral election in Georgia is headed for a runoff with no candidate reaching the 50% threshold. City Council President Felicia Moore has won 40% of the vote with 96% of precincts reporting.
Whether she'll face former Mayor Kasim Reed or technology consultant Andre Dickens is up in the air. Both candidates are neck-and-neck for second place, with Reed earning 23.7% of reported votes and Dickens close behind with 22.6%, according to the latest data from the Fulton County elections board. -- Jill Shah
Frey Tops Ranked-Choice Vote for Minneapolis Mayor (11:20 p.m.)
Democrat Jacob Frey fought off a swarm of challengers in the Minneapolis mayoral race for the first-round of ranked-choice voting.
The incumbent mayor led with 42% of the vote on Tuesday night, according to unofficial results released by the Minnesota Secretary of State's office. Progressive candidates Sheila Nezhad and Kate Knuth followed, with 21% and 18%.
The counting process will proceed to another round where low-polling candidates are eliminated and votes are redistributed to second-choice rankings. This will continue until a candidate obtains 50% of the vote or one person is left standing.
Early results signal a favorable view of Frey whose leadership after the killing of George Floyd by a Minneapolis police officer was criticized by his opponents on the campaign trail. -- Akayla Gardner
Michelle Wu Makes History, Elected Boston Mayor (11:10 p.m.)
Michelle Wu on Tuesday became the first woman of color to be elected mayor of Boston. Her opponent, Annissa Essaibi George, a fellow city councilor, conceded and offered congratulations.
Wu, 36, will succeed Kim Janey, the acting mayor and first woman of color to hold the post. She became mayor after Mayor Marty Walsh resigned to become U.S. labor secretary. Wu, who was the first Asian American woman on the City Council, is a Harvard graduate who supports a city-level Green New Deal and is an ally of Senator Elizabeth Warren of Massachusetts.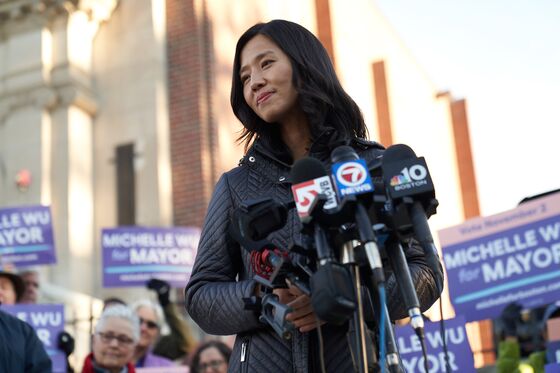 "Although we put in a lot of work to get to this day, our movement does not end here," Wu said to cheering supporters Tuesday night. "We have a lot of work to do, so let's dig in." -- Bre Bradham  
Socialist Lags in Buffalo; Minneapolis Measure Fails (10:25)
Self-described socialist India Walton trailed in early returns in her bid to become mayor of Buffalo, New York, as the incumbent mounted a fierce write-in campaign to keep his job. 
The incumbent, Byron Brown, who lost to Walton in the Democratic primary, held an almost 2-1 advantage with about 21% of the votes tallied, according to the Associated Press. Brown is running for his fifth term to lead Buffalo, New York's second-largest city.
And in Minneapolis, voters rejected a proposal to overhaul the city's approach to policing. The measure, which would have replaced the police with a Department of Public Safety needed 51% of the vote to pass and failed to meet that threshold, according to the Associated Press. 
The killing of George Floyd by a Minneapolis police officer last year touched off global protests for racial justice. -- Edward Dufner
Youngkin Cuts Into Democratic Strongholds (9:57 p.m.)
In populous Fairfax County, a Democratic bastion critical to McAuliffe's fortunes, Youngkin's vote percentage inched up after he took more than 40% of the election-day vote compared with 26% of the early and absentee vote.
Youngkin decisively defeated McAuliffe in Virginia Beach, an anchor of southeastern Virginia's Navy-centric economy, and in Chesterfield County in suburban Richmond. Both jurisdictions voted for Biden in the 2020 election.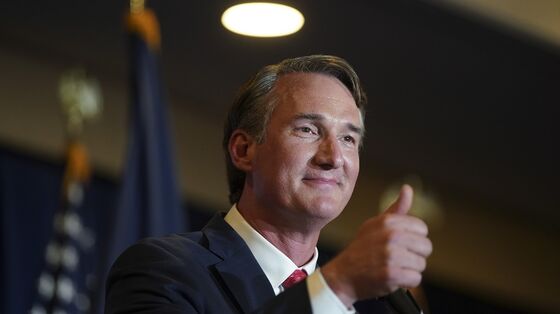 While McAuliffe beat Youngkin in Democratic-trending suburbs like Henrico County near Richmond and Prince William and Loudoun Counties in northern Virginia, Youngkin outperformed expectations and kept McAuliffe from rolling up huge margins. -- Greg Giroux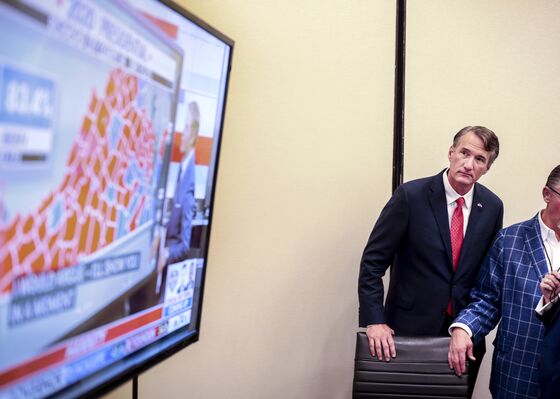 New Era Begins in New York City Government (9:50 p.m.)
Eric Adams, a Democrat, was elected as the 110th mayor of New York City on Tuesday. He had 74% of the vote with 22% of precincts reporting, according to the Associated Press, which called the race 11 minutes after polls closed. Adams, a former police captain, will become the second Black man to run City Hall when he's sworn in in January. David Dinkins, elected in 1989, was the first.

Democrat Alvin Bragg was elected Manhattan's first Black district attorney, a role which will see him confront rising crime, calls for social justice and the prosecution of former President Donald Trump's company.

Brad Lander, also a Democrat, is projected to become the city's comptroller, according to NY1, the cable television station. He had 75% of the vote with 27% of precincts reporting, according to the Associated Press. Vowing to better track how the city spends more than $15 billion in federal pandemic relief, Lander, a City Council member from Brooklyn, called the election "a critical time in the life of our city as we come back from the pandemic," in an interview Tuesday night on NY1. -- Shelly Banjo
Youngkin Making McAuliffe Win Ever More Elusive (9:35 p.m.)
Youngkin's lead in Virginia means that it's getting harder and harder for McAuliffe to find the votes he needs to overtake him. 
Youngkin led decisively in Virginia Beach and Chesterfield County in suburban Richmond, two swing jurisdictions that voted for Biden in 2020. 
In Democratic-trending suburbs like Henrico near Richmond and Prince William and Loudoun in northern Virginia, Youngkin held his own and avoided the trouncing losses Trump suffered there. Even in populous Fairfax County, a Democratic bastion critical to McAuliffe's fortunes, Youngkin's vote share inched up after winning more than 40% of the election-day vote compared with 26% of the early and absentee vote. -- Greg Giroux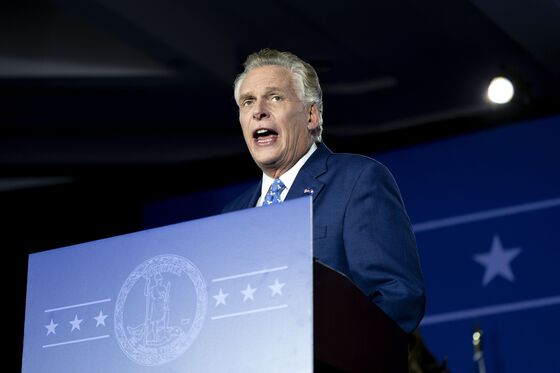 Adams Supporters Talk About the Future (9:25 p.m.)
Friends and supporters of Adams filled his election night headquarters as polls closed at the New York Marriott in Brooklyn as "Happy" by Pharrell Williams played in the background. The crowd buzzed about promises Adams has made to decrease violent crime in the city.
Christian Pascal, an owner of the hedge fund hangout Hunt & Fish Club in Midtown Manhattan, said Adams would "put a shine" on New York City by making it safe. 

Ava Mitchell, a retired New York police sergeant who worked with Adams as a transit officer decades ago, said the mayor-elect must focus on community policing to "bring the city together and heal the city."
Michael Atherley, who's known Adams since he was a police captain, said he's looking for a mayor who will put the needs of ordinary individuals above corporations.  
"I'm looking forward to the city going back to the people," Atherley said. -- Amanda Gordon and Natalie Wong
 
More Strong Results for Youngkin (9:18 p.m.)
In addition to racking up good numbers in rural districts, Youngkin also was holding his losses down in outer-ring Washington, D.C., suburbs like Prince William and Loudoun counties, where Trump got blown out in 2020.
Even in Fairfax County -- critical to McAuliffe's fortunes -- Youngkin was winning more than 40% of the Election Day vote, compared with just 26% of the early/absentee vote.
Two prognosticators said they expected Youngkin to win, though the Associated Press and all five major television networks said the race is too close to call. CBS News said the state results were now "lean Republican."
Both Dave Wasserman of the Cook Political Report and the Decision Desk declared Youngkin the victor. -- Greg Giroux
Youngkin Finds Balance in Rural, Suburban Areas (9:01 p.m.) 
If Youngkin does win the Virginia governor's race, it will be because he moved out to a big lead by dominating rural precincts and holding his own against McAuliffe in some more populous jurisdictions.
McAuliffe needed a significant vote from Democratic strongholds to overcome the deficit. Youngkin led McAuliffe by 55%-45% out of more than 1.9 million votes cast in incomplete returns, according to the Associated Press. Turnout may exceed 3 million.

In jurisdiction after jurisdiction, Youngkin hit the vote-percentage targets he would need to win the governor's race. For instance, he led McAuliffe 55%-44% in Chesterfield County, a suburban area near Richmond that he needed to win. -- Greg Giroux
Results From Virginia's Fairfax, Chesterfield Counties (8 p.m.)
In Fairfax County, the most vote-rich jurisdiction in Virginia, McAuliffe led Youngkin by 74%-26% out of the first 133,810 ballots cast early or by mail before Election Day. Youngkin probably needs to win about 34%-35% in Fairfax, so he'd have to make up the early deficit from voters who cast ballots on Tuesday. Fairfax County cast 376,004 votes in the 2017 election for governor, so 
there's a lot left to count there. 

Youngkin led McAuliffe 54%-45% out of the first 64,000 votes tallied in Chesterfield County south of Richmond, a jurisdiction that always reports its votes quickly. That's a good early sign for Youngkin, who probably needs to win Chesterfield, which cast about 119,000 votes in 2017.

Early returns showed Youngkin rolling up huge margins in more rural Republican strongholds in the west and southwest. He had 82% in Rockingham County on the West Virginia border and 91% in Lee County in the southwestern corner of the state. In 2020, Donald Trump won 84% of the vote in Lee, his best showing in 
the state. -- Greg Giroux
Some Places to Watch in Virginia: (7:30 p.m.)
With more than 1.1 million people, Fairfax County is an anchor of the northern Virginia suburbs of Washington and supplies more votes than any other Virginia county or city. Once a swing county, it's now a Democratic stronghold: Fairfax gave just 28% of its votes to Trump in the 2020 presidential election and 31% to Republican Ed Gillespie in the 2017 gubernatorial election. So Youngkin doesn't need to win Fairfax, or even come close -- a showing in the mid-30s would suffice for him.

Located northwest of Fairfax, high-income Loudoun is Virginia's 
fastest-growing county and trended sharply Democratic in the Trump years. Youngkin closed his campaign there with an election-eve rally in Loudoun that underscored how much Republicans want to stanch the bleeding in a county that's been a focal point of culture-war fights over education curricula. Youngkin's target percentage in Loudoun is in the low-to-mid 40s.

South of the state capital of Richmond, Chesterfield is a former 
Republican bastion that's become a politically competitive county and one that tends to report its vote totals quickly. It voted 52%-46% for Biden and 50%-49% for Northam. -- Greg Giroux