Trump Allies Troll Democrats Over Iowa Foulups: Campaign Update
(Bloomberg) -- Allies of President Donald Trump moved quickly to use the delay in Iowa caucus results to float conspiracy theories.
When the Iowa Democratic Party said it had to do "quality control" before reporting results, Trump's campaign manager Brad Parscale tweeted "Quality control = rigged?" with a thinking-face emoji often used online to make insinuations.
Donald Trump Jr. invoked his father's frequent claims in 2016 that the Democratic nominating process was rigged against Bernie Sanders to raise new questions.
"Yeah rigging the primary worked wonders for the Democrats last time," he tweeted.
A pro-Trump account tweeted in all caps: "RIGGED." The account had been suspended from Twitter for a time for spreading false and unfounded rumors after Superstorm Sandy.
Coin Tosses Decide Delegates in Several Cases (11:16 p.m.)
One of the Iowa caucuses' quirks: Some delegates are chosen at random.
When two candidates get the same number of supporters in a precinct, the tie is broken with a coin toss.
That happened in Polk County on Monday night, when Pete Buttigieg and Elizabeth Warren tied for second place. A representative of Buttigieg's supporters called tails, and he won an extra delegate.
It appears to have happened in a handful of other precincts as well this year.
Coin tosses have proven controversial in the past. After Hillary Clinton's narrow win in 2016, some argued that too much was dependent on the toss of a coin, which is one reason the state party decided to release raw vote totals as well this year.
Iowa Caucuses Live
Up to

Colorful Reputation (10:06 p.m.)
Few American political traditions are as colorful as the Iowa caucuses. Here are a few moments from around the state:
* The caucuses can go late into the night. One Des Moines caucus-goer came prepared, but plans went awry when the bottle of wine that was smuggled in fell, shattering on the gym floor.
* Amy Klobuchar's big advantage in Iowa is that she's from the state just to the north. But a MinnPost reporter noted she missed the viability threshold at a satellite caucus for Iowans held in St. Paul, Minnesota.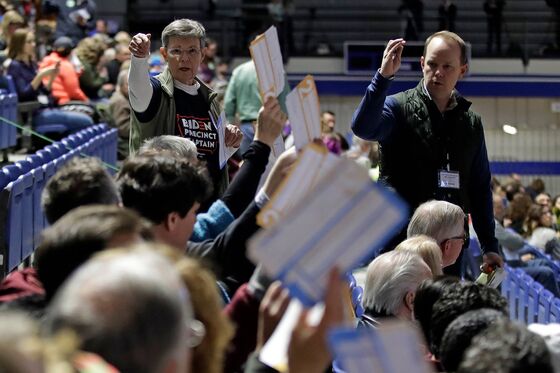 * In Cedar Rapids, one caucus-goer ignored former Secretary of State John Kerry's admonition that he was absolutely not running and set up an ad hoc spot for him at the caucus site.
* As the caucuses were going on, Illinois Governor J.B. Pritzker tweeted out a link to an NPR story about states that are more representative than Iowa. "If you're looking for a state whose people represent the diversity of America, look no further than Illinois," he wrote.
* At the Roosevelt High School caucus site in Des Moines, backers of Bernie Sanders and Elizabeth Warren used chants to lure other caucus-goers. For Sanders: "Bernie beats Trump." For Warren: "Dream Big, Fight Hard."
Candidates Ready to Jet to New Hampshire (9:21 p.m.)
The Iowa caucuses will be over for just a few hours before the New Hampshire primary kicks off in earnest.
Pete Buttigieg will be in the Granite State for a 9:30 a.m. town hall at a theater in Manchester.
Elizabeth Warren will board a midnight flight to New Hampshire for an 11 a.m. event in Keene.
Joe Biden and his wife Jill will hold an event at 11:30 a.m. in Nashua.
And Bernie Sanders will hold an event at 5 p.m. at an athletic club in Milford.
But they'll all be beaten to the punch by Andrew Yang, who is holding a 4 a.m. rally at the Manchester regional airport. That's a.m., not p.m.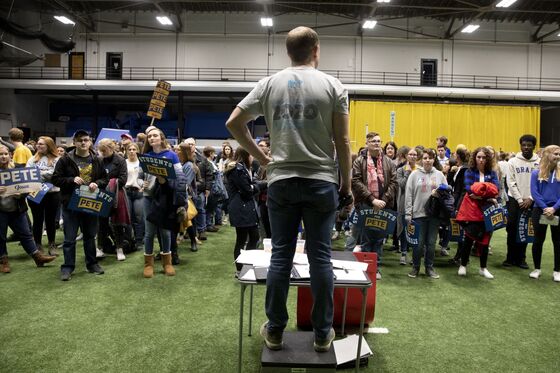 Candidates' Final Iowa Tweets Hit Big Themes (8 p.m.)
The Democratic candidates' final tweets before the Iowa caucuses reflected their campaign themes: Joe Biden and Amy Klobuchar brought up Donald Trump. Bernie Sanders and Elizabeth Warren promised to fight for their programs. And Pete Buttigieg talked about hope.
As he has from the start, Biden pitched himself as the antidote to Trump: "America's character is on the ballot. I don't believe we're the dark, angry nation we see in Donald Trump's tweets — we are so much better than who he thinks we are."
Klobuchar argued for her electability: "America needs a candidate who can beat Donald Trump. In my last race, I flipped 42 counties blue that Trump won in 2016. I'm ready to take him on and unite our country."
Sanders promised to fight: "The whole world is looking at Iowa today. They are looking to see whether the people of Iowa are prepared to stand up and fight for justice. Let's win this together."
As did Warren: "Iowa, you have a decision to make tonight. Will we let the fear pull us back -- or will we fight back? I got into this race because I'm ready to fight back."
But Buttigieg went for a different tone: "Running for office is an act of hope. So is volunteering. So is caucusing. Iowans, as you caucus today, carry with you the hope of a better American future. Hope that propels us toward action to make that future a reality."
Yang Kids About a Take-Prisoners Iowa Strategy (4 p.m.)
The Iowa caucuses may be getting to Andrew Yang.
The Venture for America founder started cracking himself up as he joked at a campaign event in Iowa about the aggressive approach his supporters should take for Monday night's caucuses.
Yang said they should bring every person they have had a conversation with, every "little old lady" they'd helped across the street and even "every unwilling person" they've met.
For those who resist, he (facetiously) suggested they knock them unconscious, take them to the caucus sites and "then you prop them up and make them seem like they're conscious."
Yang often cracks jokes on the campaign trail, boosting his outsider status by commenting on the absurdity of the presidential campaign process. But this one prompted his wife, Evelyn, to tell him, "Contain yourself."
Iowa Precinct Chairs Struggle With App (2:44 p.m.)
Precinct chairs across Iowa said that some of them are struggling to use the new phone application for reporting Monday night's caucus results, potentially delaying the counting of the first votes in the 2020 Democratic race.
The application is one of the ways local officials who oversee individual caucuses are able to send results from each of the nearly 1,700 sites to the Iowa Democratic Party, which compiles and checks the results.
The app was created to improve the efficiency of reporting of results, but chairs unable to use the app on Monday will send their results to the party via a call-in number. The party hotline has always been available to precinct chairs. State party officials said they have no concerns that the results will be counted inaccurately.
The final tally could be delayed by a few hours because the chairs will have to call the hotline and read the results instead of submitting them electronically.
Four Democratic county chairs told Bloomberg News that some precinct chairs told them that they were unable to download or log in to the phone app. The Iowa Democratic Party said it is aware of the problems, but stressed it would not affect the reporting of the results. -- Tyler Pager
Biden Says He's 'Feeling Good' on Caucus Day (2:11 p.m.)
Joe Biden said he's confident that even if he falls short in Iowa, his campaign will live to fight another day.
"We're going to survive all the way through this whole thing," he told reporters outside one of his Des Moines field offices on Monday when asked if he could survive anything other than a first-place finish in the evening's caucuses.
Biden, wife Jill and three of their granddaughters made a midday visit to the office with a stack of pizzas for canvassers ready to spend the afternoon knocking on doors.
"Gotta feed the troops," he said.
A supporter asked how he was feeling ahead of caucus night. He didn't reveal much. "I'm feeling good. I really am." -- Jennifer Epstein
Poll Gives Fresh Evidence for a Twitter Debate (1:48 p.m.)
A new poll gives Democratic moderates fresh evidence for their argument that liberals are overestimating their clout because of the megaphone of social media.
The survey from the Pew Research Center found that Democrats and Democratic-leaning independents who use Twitter are substantially more likely to say they are liberal than those who don't.
Conducted Jan. 6-19, the survey of 6,077 U.S. adults nationally found that 56% of Democrats and Democratic leaners on Twitter described their political views as liberal or very liberal. Only 41% of those not on Twitter said the same.
That's a statistic you might hear cited from backers of candidates like Joe Biden and Pete Buttigieg who argue that "red rose" Twitter -- named for the emoji that democratic socialists add to their handle -- is over-represented on the social network.
Of course, that's an argument centrist Third Way Democrats have been making since last June, and it hasn't yet hurt red rose Twitter favorite Bernie Sanders.
The Iowa caucuses are Monday night, then most of the candidates head to New Hampshire.
CNN will host town halls featuring eight presidential candidates in New Hampshire on Feb. 5 and 6, and some of them will debate there on Feb. 7. The New Hampshire primary is Feb. 11.
Nevada holds its caucuses on Feb. 22, and South Carolina has a primary on Feb. 29.
(Disclaimer: Michael Bloomberg is also seeking the Democratic presidential nomination. He is the founder and majority owner of Bloomberg LP, the parent company of Bloomberg News.)