Poll Boost for Far-Right Brazil Candidate as He Skips Debate
(Bloomberg) -- Brazil's far-right presidential candidate Jair Bolsonaro extended his lead over his rivals in the latest opinion poll, as he stayed away from the final TV debate to chat on social media and breeze through a TV interview.
The former army captain saw his support rise to 35 percent in the Datafolha poll published on Thursday evening, up three points on the last poll from Oct. 2. Fernando Haddad, the second-placed candidate from the leftwing Workers' Party, has 22 percent of vote intentions. If no candidate wins a majority of valid votes in the first round this Sunday, there will be a runoff on Oct. 28.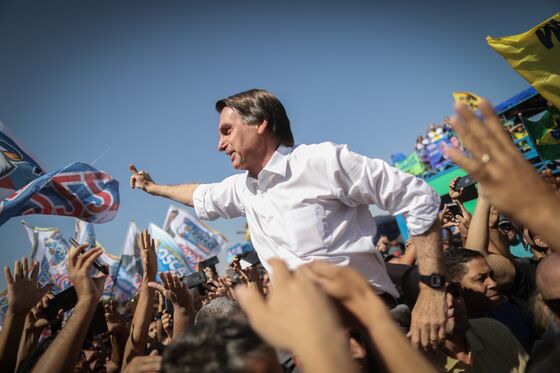 The numbers came just hours before the debate broadcast on TV Globo, traditionally one of the key moments in Brazilian election campaigns. But with the front-runner absent, on doctor's orders as he recovers from a stabbing, the event was a relatively low-key affair. The remaining candidates clashed on issues ranging from labor reform to Brazil's infrastructure failings, but the majority also warned of the dangers of the country's current political polarization and the risks involved in electing Bolsonaro.
"At this moment we have to shout: dictatorship never again," said Guilherme Boulos, of the far-left PSOL party.
For more on Brazil's elections, click here.
Bolsonaro himself, meanwhile, was at ease in an interview with TV Record, in which he backtracked on a previous statement indicating he would only accept the election result if he won. Interrupted twice by a nurse who warned him not to overexert himself, Bolsonaro reiterated his plans to cut taxes and sought to downplay his image as a misogynist, racist and homophobe.
"I'm not homophobic," he said. "Can it be true that I'm really that bad?"
The Datafolha poll shows Bolsonaro and Haddad are technically tied in a second round scenario, with 44 percent and 43 percent respectively.
In terms of valid votes, Bolsonaro now has 39 percent, compared with 25 percent for Haddad. The Datafolha poll -- BR-2581/2018 -- also showed Bolsonaro still has the highest rejection rating of any candidate, at 44 percent, but Haddad is not far behind with 40 percent.
Datafolha interviewed 10,178 people in 389 municipalities on Oct. 3-4 and has a margin of error of plus or minus 2 percentage points. Datafolha does not run polls for politicians or political parties, according to its website.
A separate public opinion survey published on Friday morning by political news website Poder360 also showed Bolsonaro leading first round vote intentions with 30 percent, followed by Haddad with 25 percent. In a runoff, the poll showed Bolsonaro with 45 percent and Haddad with 42 percent.