Political Risks Grip Europe's Markets, Stirring Memories of 2012
(Bloomberg) -- Traders could be forgiven if flashbacks of the euro zone crisis come back to haunt them as the euro slid to a six-month low and risk premiums on Spanish and Italian bonds soared amid rising political risks.
European risk assets took a massive pounding on Friday ahead of a long weekend in London as investors fled from riskier bonds, stocks and credit securities to the safety of German bunds that were set for their biggest gain since 2012.
The yield premium on Italian bonds surged to the highest in four years as the leader of a populist coalition said the new government would implement its agreed program. Over in Spain, the benchmark stock index tumbled the most in three months after opposition leaders called on Prime Minister Mariano Rajoy to step down over a corruption scandal.
"Political developments in Italy remind people of the Greek debt crisis," said Marius Daheim, a senior rates strategist at SEB AG in Frankfurt. "Italy may well be the final risk factor that causes investors to drop their 'Goldilocks scenario'."
Here's a quick run-down of how the various markets are faring:
The yield on Italy's two-year bonds rose 22 basis points to 0.49 percent, after touching the highest in almost three years. The nation's benchmark 10-year notes now offer investors a spread of 205 basis points over bunds, near the highest in four years.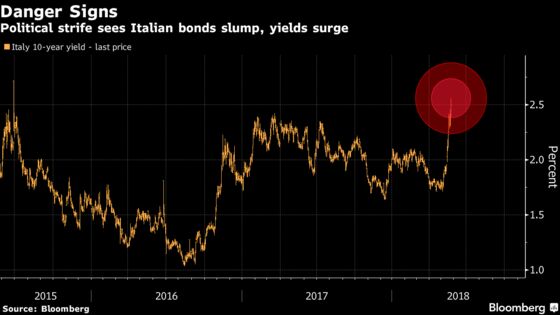 In Spain, stocks and bonds slumped as investors reacted to growing calls seeking the ouster of Rajoy. The nation's benchmark notes snapped a three-day rally after the Socialists -- the biggest opposition party -- submitted a no-confidence motion on Friday against the prime minister. However, Rajoy said he aims to see out the rest of his four-year term. The benchmark IBEX-35 Index of shares slid as much as 2.7 percent, the most since February.
Meanwhile, the FTSE MIB fell as much as 2.4 percent with banks among worst hit. Italy's Five Star and League parties published a plan that includes reviewing fiscal policy, bail-in rules and Basel banking accords, raising concerns that the measures could slow the reduction of bad debt and hit banks' valuations.
The VStoxx volatility index surged 11%, reaching its highest level since April 11.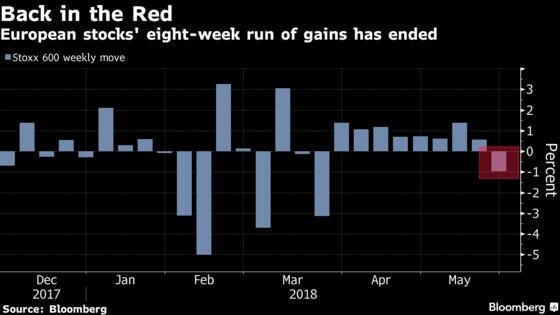 The Swiss franc, seen as a haven particularly when euro zone risks are rising, climbed for a fourth day. The currency has surged almost 4 percent against the euro this month alone. Meanwhile, the yield on 10-year bunds fell to 0.40 percent, touching the lowest since December.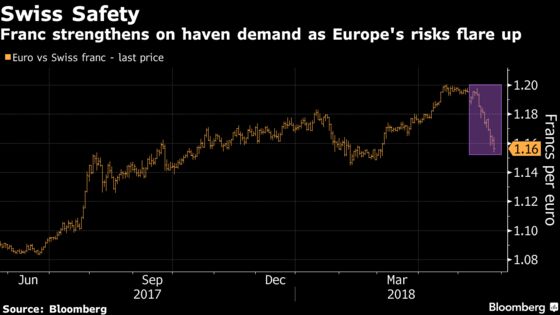 Gauges of credit risk soared to 2018 highs, with banks bearing the brunt of moves, as investors worried about spillover from Italy. With the incoming government not only challenging European Union rules but also calling for a review of the bailout of troubled lender Banca Monte dei Paschi di Siena SpA, the situation poses a systemic threat for banks, in particular, according to Greg Venizelos, a senior credit strategist in London at AXA Investment Managers.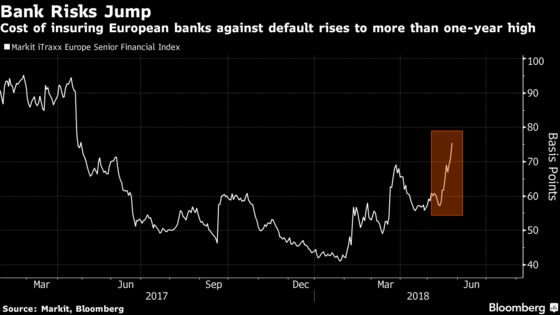 The iTraxx Europe index is more than four basis points wider at 67 basis points. Some 71 percent of this month's primary issuance is now being quoted wider than at their launch.