Political Fears Roil Europe as Italian Stocks Slide With Spain
(Bloomberg) -- Politics dominated European markets on Friday as Spanish stocks sank on the prospect of a change in government, while Italian equities slid on the program of a new administration.
Spain's IBEX 35 Index headed for its biggest one-day drop since early February, losing as much as 2.7 percent, after the opposition called a vote of no-confidence against Prime Minister Mariano Rajoy's minority administration, sparking concern of a snap election.
In Italy, the equity benchmark declined for a third day amid continued fears that the new populist program would threaten the country's fiscal and banking stability and any efforts to strengthen European integration.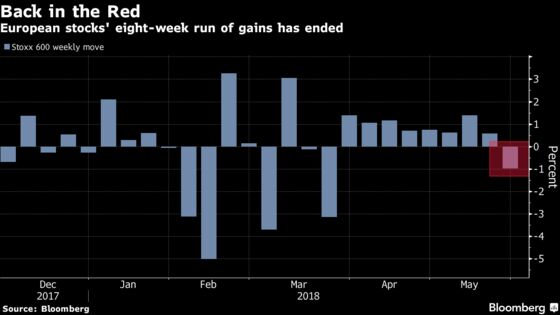 Global developments are also not helping, with the U.S. this week canceling a historic meeting with North Korea. The Stoxx 600 headed for its first weekly decline since late March, led by falls in the energy and utilities sectors.