Polish Voters Send Ruling Populists Warning in Regional Vote
(Bloomberg) -- Poland's ruling party won a smaller-than-expected victory in regional elections, drawing a warning from voters unnerved by its unprecedented clash with the European Union.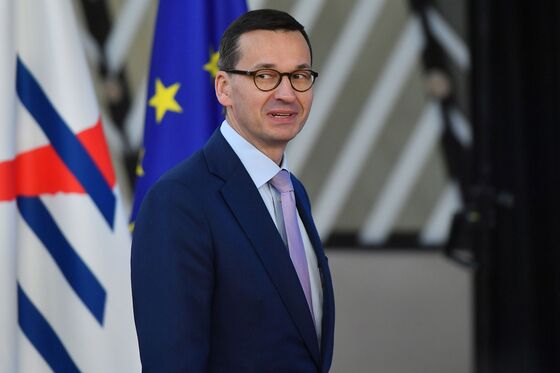 The nation of 38 million is ground zero in a battle between populist leaders rebelling against the bloc's liberal norms from Rome to Warsaw and mainstream forces who say they're undermining democracy. Prime Minister Mateusz Morawiecki's Law & Justice party has been at the forefront with a "Poland First" message and a vow to "re-Christianize" Europe.
Nationwide, Law & Justice won 32 percent of votes in Sunday's contests that included 16 regional councils, according to an exit poll by Ipsos. That fell short of both pre-election opinion polls and the nearly 38 percent it won in 2015 general elections. With turnout hitting a record high of 53 percent, the party lost nearly all major cities, including the capital Warsaw, where opposition candidate Rafal Trzaskowski unexpectedly won in the first round.
While Morawiecki declared victory, noting that his party came out on top in more provinces than in 2014, its path to influence will be complicated by potential opposition coalitions with higher combined support. Final official results will be available on Tuesday at the earliest.
"This is the best showing ever in a local election for Law & Justice," said Morawiecki, a former banker who visited more than 150 towns and villages across the ex-communist state as the face of Law & Justice's campaign. "We're getting through to more and more voters, but we have room for improvement."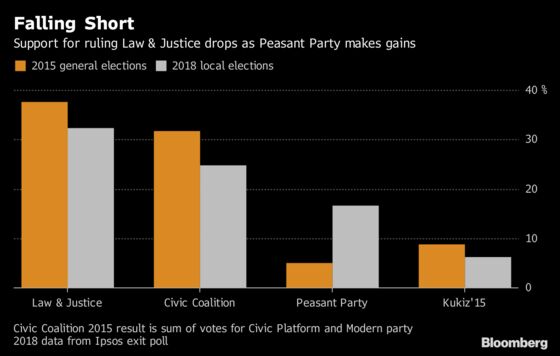 The outcome underscores some dissatisfaction with a party that has bolstered support via handouts to families and hikes to pensions and public wages, as well as non-stop coverage on state-controlled media lauding the government and criticizing its opponents.
The opposition Civic Coalition, led by the Civic Platform, was second nationwide with 25 percent, according to the exit poll. Its former coalition partner, the Peasants Party got 17 percent. The rural-focused group and frequent partner in Polish governments won more votes than pre-ballot surveys suggested after its core farming constituency, reeling from a drought this summer and reported delays in compensation payments from the government, turned against the ruling party.
Together the Civic Coalition and the Peasants may be able to retain power at most regional councils, which are responsible for distributing much of of the billions of euros in EU aid that Poland, the bloc's biggest net recipient, gets each year. Law & Justice may respond with more public spending before next year's general elections and a presidential vote in 2020, according to Jakub Borowski, chief economist at Credit Agricole Bank Polska SA.
"The government may rethink its fiscal strategy," said Frank Gill, an analyst at S&P Global Ratings. "But it has budget flexibility going into a busy election schedule."
Polish assets have been somewhat resilient to the government's confrontations with the EU over rule of law, tracking other emerging markets lower in an environment of higher global interest rates. The zloty was little changed on Monday in Warsaw, while benchmark 10-year bond yields dropped 2 basis points to 3.25 percent.
Opponents have decried the government's confrontations with Brussels, particularly over a judicial overhaul they argue could push Poland out of the EU. Last week, the bloc's highest tribunal ordered the country to "immediately suspend" changes to the Supreme Court, where Law & Justice passed laws lowering the retirement age to get rid of nearly 40 percent of the justices. The European Commission says the changes breach the EU's rule-of-law norms.
"This result may weaken the position of Morawiecki as prime minister, because it's a setback for Law & Justice," said Anna Materska-Sosnowska, a political scientist at Warsaw University. "Someone will likely be held accountable."