Nationalist Drift Tested in Poland as President Faces Runoff
(Bloomberg) -- Polish voters denied President Andrzej Duda's bid for quick re-election, forcing him into a runoff that risks halting the country's nationalist makeover.
The second-round ballot -- which opinion polls suggest is too close to call -- will decide whether the European Union's largest formerly communist nation will complete a five-year drive that has put it at odds with the bloc's democratic and multicultural values.
Duda won 43.7% of Sunday's ballot, followed by 30.3% for opposition candidate and Warsaw Mayor Rafal Trzaskowski, according to results from more than 99% of constituencies. The two will now square off in a final ballot on July 12.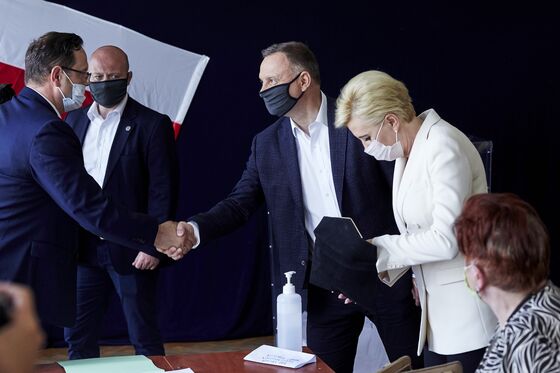 Back on the campaign trail Monday, Duda returned to bashing gays, who he says threaten Poland's traditional Catholic values. He attacked pro-LGBT rights advocates like Trzaskowski, who has backed World Health Organization guidelines for sex education in Warsaw.
"We won't calmly watch schools siphoning ideologies to children," Duda told public radio, referring to the WHO curriculum. LGBT "ideology is very controversial and morally very doubtful."
The runoff between the two 48-year-olds will determine whether Duda's allies in the ruling Law & Justice party can complete a push to seize more control over the economy and the courts. A Trzaskowski win could cut short the plans and help rebuild Poland's strained EU ties.
The country of 38 million was hailed for the past three decades as a model of transformation from communism to a thriving democracy. But since 2015, Duda and his allies have clashed with the EU over everything from judicial independence and control of the media to LGBT rights.
The risk for an EU grappling with the pandemic and its economic fallout is that Poland may slide the way of Hungary, which has been transformed by Premier Viktor Orban into an "illiberal democracy."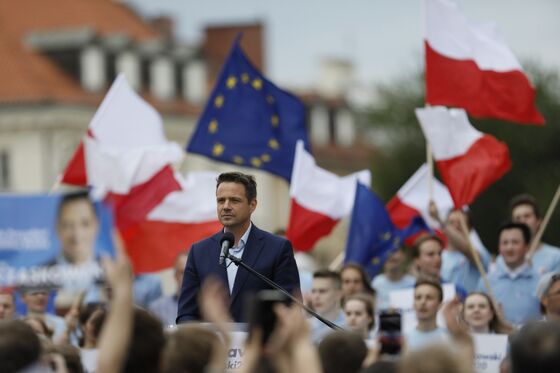 Opinion polls give the incumbent a razor-thin advantage, with Trzaskowski seen gaining the bulk of votes won by most other opposition contenders and Duda those of an anti-EU nationalist candidate.
If Sunday's turnout of about 64% is repeated in the runoff, Duda needs to add more than 1 million votes for a majority, while Trzaskowski needs to attract more than three times more. The Warsaw mayor won most bigger cities but his message didn't catch on in smaller agglomerations.
"The runoff is open but Trzaskowski needs a spark," said Anna Materska-Sosnowska, a political scientist at Warsaw University. "He needs a vision and a narrative to mobilize passive voters."
A Trzaskowski victory would scupper Law & Justice's platform as the party lacks seats in parliament to override presidential vetoes. That may create risk for Polish assets by raising the possibility of an early general election, according to Bank Millennium economist Grzegorz Maliszewski. The zloty was little changed against the euro on Monday.
Duda was cruising for an apparent easy first-round win as recently as early May, but his campaign took a hit as measures to tackle the coronavirus put Poland on the path toward its first economic recession in three decades.
The president turned to familiar Law & Justice tactics when his popularity dipped, including picking on gay people and cozying up to Donald Trump during a visit to the White House days before the vote.
By contrast, Trzaskowski -- a political scientist who took the capital's top job in 2018 -- supports same-sex partnerships. The son of a famous jazz pianist who speaks five languages, he tapped into discontent with a rallying cry of "We've had enough!"
Law & Justice's five years in power has been marred by unprecedented EU lawsuits detailing how it's eroding democratic values and removing the checks and balances on its power. Duda is backed by state television -- the main source of news for many. It hailed his meeting with Trump, where no major deals were signed, as a turning point in Polish history.
The main nightly news program repeatedly questioned if Trzaskowski is a "true" Catholic and stirred doubt over his ability to fight for Polish interests, because he once won a scholarship from a foundation linked to philanthropist George Soros, a figure demonized by far-right groups.