Polish Prime Minister Warns EU Against Starting World War III, FT Says
(Bloomberg) -- Poland sought to assuage outrage among its European Union partners after Prime Minister Mateusz Morawiecki said the bloc could start "the third world war" by withholding the country's access to funds in a dispute over democratic values.
In an interview with the Financial Times published on Monday, Morawiecki said the EU was holding a "gun to our head" and said his government would "defend our rights with any weapons which are at our disposal." 
Poland is the biggest net recipient of EU funds, taking in more than 200 billion euros ($232 billion) since it joined the bloc in 2004. Yet the nationalist Law & Justice party has transformed the country from a poster child of successful post-communist transformation to one of the EU's biggest post-Brexit headaches amid constant rows over judicial independence, media freedoms and LGBTQ rights. 
While Morawiecki didn't specify what "weapons" Poland could use, his aides have suggested that it could scupper the bloc's ambitious plans for cutting greenhouse-gas emissions. After his comments sparked uproar among members of the European Parliament and Poland's opposition, cabinet spokesman Piotr Muller said they were "hyperbole" and shouldn't be taken literally.
"Suggesting that these words indicate that we're at risk of any type of war is abusive," Muller told reporters Monday. "It's a rhetorical phrase used in interviews and in literature."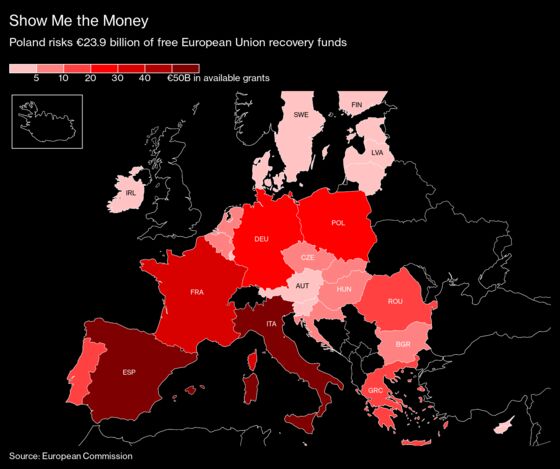 With his combative rhetoric, Morawiecki appeared to question the essence of the EU, which won the Nobel Peace Prize for helping keep peace on the continent following last century's two world wars and decades spent divided by an iron curtain. 
The comments also turned heads because they came at the end of what could be seen as a successful EU summit for the premier, who managed to convince fellow heads of EU governments last week to soften the bloc's approach to the rule-of-law standoff, including calls for restraint from Germany and France.  
Ruling on a case filed by Morawiecki, Poland's top court this month unilaterally rejected the primacy of some EU laws, undermining the bloc's legal order and giving the government a legal basis to continue to ignore EU court rulings. In response, the European Parliament passed a resolution scolding Poland and threatened to sue the bloc's executive unless it takes decisive actions against Warsaw. 
Concern over the blurring of checks-and-balances in the EU's biggest eastern member has led to a delay in the approval of 36 billion euros of EU pandemic recovery funds. Donald Tusk, the leader of the country's main opposition party and a former European Council president, said the EU was "stunned" by Morawiecki's rhetoric and that the bloc would eventually grant Poland access to funds.
Morawiecki's harsh tone underlines the ruling nationalists' growing concerns over EU funds, which are set to finance the government's post-pandemic spending plan and serve as a springboard for a potential third term in power.
With his government losing its parliamentary majority in August and ongoing speculation that elections may be brought forward from late 2023 to next spring, Morawiecki has adopted a more anti-EU stance. This way, he's preventing hardline Justice Minister Zbigniew Ziobro, who runs a euroskeptic party currently allied to Law & Justice, from outflanking his cabinet and poaching its core nationalist voters.
Morawiecki told EU leaders that his government will dissolve a controversial mechanism for disciplining judges, acting upon a ruling of the EU court of justice which it has ignored for months. The prime minister told the Financial Times that the relevant legislation will be presented by the end of the year at the latest.
But Morawiecki also said the commission must reverse a September decision to seek daily fines against Poland for not implementing EU court rulings.
"This would be the wisest thing they can do," he told the newspaper. "Because then we are not talking to each other with a gun to our head."