Poland Vows to Defend Churches From Pro-Choice 'Nihilists'
(Bloomberg) -- Poland's most-powerful politician escalated a conflict over abortion rights by saying the country must defend churches from pro-choice protesters to ward off a civilizational threat.
The comments by Jaroslaw Kaczynski, who heads the ruling Law & Justice party, risk further fanning tensions after six days of angry demonstrations triggered by a tightening of what are already some of Europe's strictest restrictions on terminating pregnancies. He was responding after activists disrupted religious services and sprayed graffiti on shrines.
"I urge all members of Law & Justice and those that support us to take part in defending churches," Kaczynski, who's also a deputy prime minister, said Tuesday in a video message. "This attack is aimed at destroying Poland and ending the history of the Polish nation as we perceive it."
Kaczynski said the Catholic church -- which supports the harsher abortion curbs -- represented the only widespread system of moral values in Poland and rejecting it amounted to "nihilism." He said the government must stop the protests because of coronavirus risks, saying the street gatherings "will cost many lives."
Tens of thousands of people blocked roads on Monday in a show of strength by the grass-roots movement, defying increasingly strict lockdown rules. Police have so far done little to stop the demonstrations, although they sprayed tear gas on crowds when they approached Kaczynski's residence.
Women have been asked not to go to work on Wednesday in a nationwide strike and to gather in the capital on Friday for a mass protest. Opposition lawmaker Kamila Gasiuk-Pichowicz said Kaczynski's call to defend churches may end in "blood spilled" on the streets.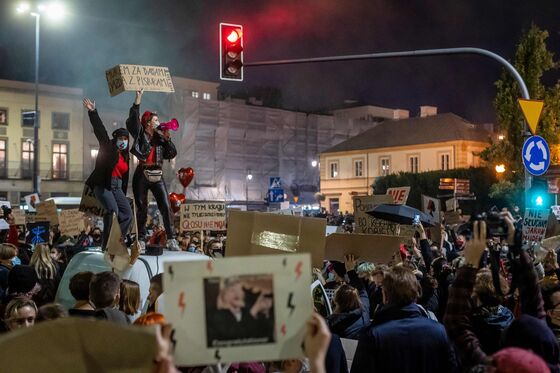 A Constitutional Tribunal ruling last week on a case brought by ruling-party lawmakers and their allies means women can't get abortions, even when the fetus doesn't stand a chance to live outside the womb.
The conflict playing out on the streets in recent days quickly dominated parliament. The lower house's deputy speaker compared a lightning-rod symbol worn by women during the pro-choice demonstrations to Nazi insignia, prompting a standoff with the opposition that ended after guards were brought in.
Calls for a revolt against Law & Justice by the Nationwide Women Strike activist group, which acts as an unofficial coordinator of the protests, have resonated beyond the bigger cities since the protests began.
This is risky for Law & Justice, which depends on rural votes to stay in power. While the next parliamentary election will only take place in 2023, the party's popularity dropped this month as the coronavirus pandemic returned.
"It's not just leftist women from large cities protesting -- this is a mass-scale phenomenon that can have political consequences," said Andrzej Rychard, a sociology professor at the Polish Academy of Science.