Polish Nationalists Face Ballot Risk as Tusk Woos Pro-EU Base
(Bloomberg) -- Poland's highest-ranking European Union official, Donald Tusk, called on his countrymen to form a wide pro-European movement to oust the ruling nationalists in this year's elections as a new opinion poll showed a united opposition has a chance to win power.
Tusk, a former two-time Polish prime minister who as the president of the European Council sets agendas for EU summits, wants to challenge the Law & Justice party, which has clashed with Brussels over democratic standards. It's not clear what role he wants to play or how the opposition will organize itself before May's European parliament vote and this autumn's general elections.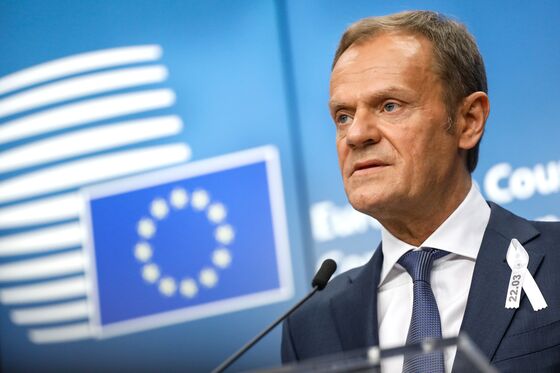 A series of scandals involving the ruling party has helped open the door to the opposition, with a survey on Thursday putting a united pro-EU bloc ahead of the populist Law & Justice, their best showing in years. A group of six opposition parties ranging from the Greens to the agrarian Peasants Party and Tusk's former Civic Platform would win 38.5 percent of the vote, about 4 percentage points more than the ruling party, according to a survey carried out by IBRiS pollster for Radio Zet.
While talks are under way to build such a coalition, most opinion polls show the ruling party holding on to power, either alone or with a potential partner.
Tusk likened this year's vote to a historic ballot 30 years ago when Poland broke free from communism, saying that if Law & Justice remained in power, it could crack down further on civil liberties and pull Poland to fringes of the EU for "generations."
In an unprecedented move, the bloc's executive sued the Polish government in 2017 for failing to uphold the rule of law following judicial overhauls. The government says it needs to reform the courts because judges fell out of touch with regular Poles.
"I am convinced that we need the type of energy and mobilization from 1989, whether it's political, ethical or moral," Tusk told Polish broadcaster TVN24 in an interview. Pro-EU groups "have nothing to fear from me or any grass-roots movement that could form" while the ruling party is "praying for apathy, stagnation and a helpless opposition," he said.
The ruling party will hold a convention on Saturday where it hopes to regain the political initiative, potentially with the help of new fiscal promises after strong budget performance last year lowered the budget deficit to below 1 percent of gross domestic product.
"We're seeking to win both elections to confirm our mandate to reform Poland," Law & Justice spokeswoman Beata Mazurek told broadcaster Polsat News on Friday. "The convention will show we're effective and credible, we'll present offers concerning Europe, higher wages and modernization."
First, they must grab back control of the narrative after weeks of scandals eroded the party's self-proclaimed "clean hands" image. Secret recordings showed its powerful chairman, Jaroslaw Kaczynski, as a money-minded businessman planning to build a luxury tower in Warsaw, upending the party's narrative about their leader's unrivaled modesty and disdain for flair.
Tusk, 61, jumped on the bandwagon, saying that he wasn't aware that Kaczynski is "so obsessed with money." The EU official, who splits his time between Brussels and his native Gdansk, on the Baltic Sea, is widely considered the strongest opponent to Law & Justice party's re-election drive after repeatedly besting it in elections since 2007.
Nevertheless, his potential return to combative domestic politics is fraught with risks, including whether a united opposition can lure voters with a common platform beyond getting rid of the ruling nationalists.
"I have a plan, otherwise I would not start this battle," Tusk said on Polish television.