Polish Central Bank Chief Is Questioned in Watchdog Scandal
(Bloomberg) -- Polish central bank Governor Adam Glapinski is undergoing "routine" questioning by prosecutors on Thursday in relation to a bribery scandal that led to the arrest of the country's banking watchdog chairman.
The latest in a string of central bankers from emerging Europe becoming involved in legal probes, Glapinski has rebuffed calls to step down from opposition parties that are demanding a parliamentary investigation into bribery allegations against the former head of the Financial Supervisory Commission. Glapinski has denied any involvement in the case in which the chairman -- a former protege -- is accused of soliciting illicit payments.
Ewa Bialik, a spokeswoman for the state prosecutor's office, said by phone that Glapinski "was scheduled for questioning on Thursday in the routine course of the investigation." The announcement triggered a temporary selloff in the zloty.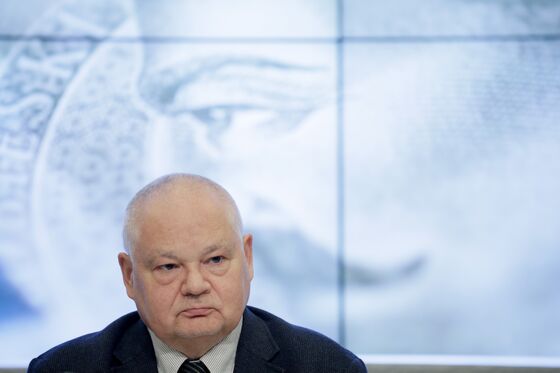 In November, newspaper Gazeta Wyborcza released a transcript of a conversation suggesting the former head of the banking watchdog, whose name can't be published without his permission, offered favorable treatment to banks controlled by Leszek Czarnecki in return for employing a recommended lawyer. The chairman resigned the same day and has been under arrest for two months.
The scandal gave rise to doubts about the quality of banking supervision, which in Poland, unlike in some other European countries, remains independent from the central bank.
While Glapinski said last month the central bank "has no skeletons in the closet" and blamed political enemies for trying to link him to the scandal, he also sought a court order to remove online media reports suggesting he was involved. Glapinski's six-year term as governor of the central bank is due to end in 2022.
"Investors, especially foreign ones, are interested in the stability of Glapinski's position," said Rafal Benecki, chief economist at ING NV's Polish unit. "Were it endangered in any way, that would lead to temporary jitters in the market, but only temporary as macroeconomic fundamentals are strong."
The zloty fell as much as 0.5 percent against the euro Thursday before erasing most of the losses to trade 0.1 percent down. It's this year's third-worst performer versus the euro among its developing European peers.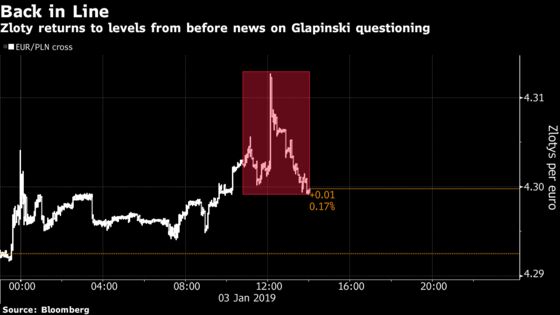 A number of other central bankers in former communist Europe have also found themselves involved in investigations. In November, Latvia's anti-corruption bureau said it was carrying out a criminal probe involving central bank governor Ilmars Rimsevics. Earlier last year, Slovenia's Governor Bostjan Jazbec resigned early amid a police investigation into the central bank's role in a 2013 bailout of state lenders. And in Bulgaria, two former central bank governors were charged for poor supervision.