Poland Vows Stimulus Plan Won't Swell Budget Gap Beyond EU Limit
(Bloomberg) -- Poland won't let its budget deficit breach the European Union's limit even as the government prepares new fiscal stimulus in this election year, Prime Minister Mateusz Morawiecki said.
The pledge comes amid concerns over how the government will finance its planned 40 billion-zloty ($11 billion) package of welfare benefits and tax cuts, which have triggered sales of Polish bonds. Last week, the yield on the government's benchmark 10-year security rose to 3 percent for the first time since December.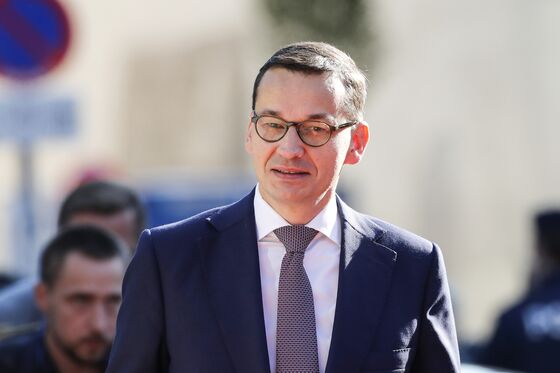 Morawiecki said the package will be paid for by budget inflows from continued strong economic growth as well as measures aimed at tightening tax loop holes, including additional revenues from multinational online retailers and other "digital giants."
"The budget deficit will probably be higher than the record low posted last year," Morawiecki told a televised presentation on Tuesday. "But even if it's higher, it will be within EU limits in the coming years."
Strong revenues helped curb last year's deficit to about 0.5 percent of gross domestic product, according to government estimates, from 1.4 percent gap a year earlier -- giving some scope for expansion before the shortfall hits the EU's 3 percent of GDP cap.
The stimulus package includes an extra 1,100 zloty payout for each pensioner in May, when the government faces elections to the European Parliament. New monthly benefits for families with children, and lower personal income taxes for people under 26, are due to rolled out before a general election, which is due in late 2019.
Up to 27 billion zloty a year will be gained from better tax collection as well as lower spending from automation in public administration, health care and social security, Morawiecki said. About 1 billion zloty will be gained from a new tax on video and music streaming and online ads, while as much as 6 billion zloty of taxes will be gained from spending and investments linked to the new benefits. Another 14 billion to 24 billion zloty will be gained from other government initiatives within three years, he said.
Jakub Borowski, the chief economist at Credit Agricole Bank Polska SA, said the package was "doable" for the budget. "Spending doesn't appear to be covered by any helicopter money, but effects of the economic boom," he said by phone.