Poland Votes at Ground Zero of Europe's Battle With Populism
(Bloomberg) -- Poland is voting in local elections that will test the conservative ruling party's grip on public opinion as it rends the country away from its European Union allies.
The nation of 38 million is ground zero in the battle between populist leaders rebelling against the bloc's liberal, multicultural norms and mainstream forces who say they've done more than any other EU government to undermine democracy. On Sunday, Poles will pick local and regional councils as well as city mayors.
Prime Minister Mateusz Morawiecki has canvassed the country with a "Poland First" message, painting the pro-European opposition as out-of-touch elites who look down upon most Poles. The governing Law & Justice party has bolstered support via handouts and hikes to pensions and state wages, as well as non-stop coverage on state-controled media lauding the government and criticizing its opponents.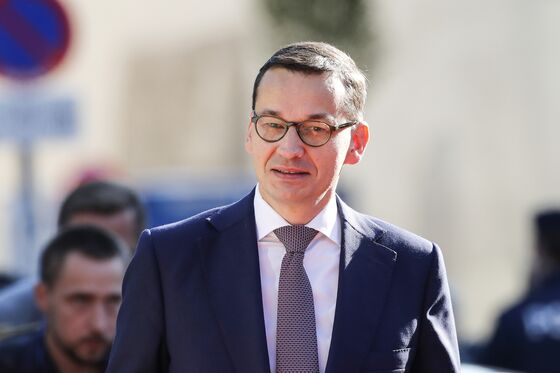 "Law & Justice appears to be the only choice from the point of view of me and many of my friends," said Magdalena Wojcik, 39, a dentist from the center of Warsaw. "I may not like everything they do, but I'm fed up with the others and can't imagine them back, with the same obvious hostility towards ordinary Poles."
While it'll probably win the most votes countrywide, Law & Justice faces a tough battle to win more of Poland's 16 regions -- it currently controls just one -- as other parties join forces to keep it out of power. A flop at the ballot box may lead it to loosen fiscal strings ahead of general elections next year.
Opponents have decried the government's confrontations with Brussels, particularly over sweeping changes to the courts that they argue could push Poland out of the EU. Morawiecki says that's nonsense and calls on Poles to trust his "patriotic" agenda.
"Poles are benefiting from a robust economy," said Marcin Zaborowski, senior associate at the Visegrad Insight think thank. "But there's a question if they're happy about rising xenophobia and euro-skepticism."
Balloting stations close at 9 p.m., with exit polls expected shortly after. Key contests will be waged in cities, the bastions of pro-European sentiment. In the capital Warsaw, Law & Justice candidate Patryk Jaki looks set to force a Nov. 4 runoff with Civic Platform rival Rafal Trzaskowski.
Kindred spirits with Hungarian leader Viktor Orban in his drive to create "illiberal democracies" on the continent, the party has vowed to remold Poland to "re-Christianize" Europe and refused to shelter any of the immigrants fleeing to the EU form war and poverty in the Middle East and Africa.
"We love the EU and the EU loves us," Morawiecki said this week in Brussels. "All citizens understand that this a tough game where every nation is defending its interests."
Civic Platform is banking on a series of rulings from EU institutions -- including a European Court off Justice order for the country to immediately suspend changes to the Constitutional Court -- to spur voters to their cause. Pro-EU sentiment in Poland is among the highest in the bloc.
Another factor that may undermine Law & Justice is the leak of recordings of Morawiecki, a former banker, made in 2013 when he ran the Polish branch of Banco Santander SA. In the tapes, he's heard saying Poles should lower their expectations and would be happier digging ditches than living on credit. Similar secretly recorded conversations of his political opponents paved the way for his party to win 2015 elections.
As the scandal deepens, Law & Justice has returned to the anti-Muslim strategy that helped deliver it to power. Abandoning a weeks-old platform aimed at winning over moderate voters, it issued an ad alleging opposition parties would allow immigrants to flood over the border and cause unrest in Polish cities.
"It's a clear turn in the strategy, and a call mobilizing the core constituency to vote," Zaborowski said.