Putin Brushes Off Merkel Appeal on Belarus; EU Readies Sanctions
(Bloomberg) -- President Vladimir Putin brushed off a request by Chancellor Angela Merkel to exercise his influence over Belarus as the European Union prepares a fresh raft of sanctions against the regime in Minsk for channeling thousands of migrants to the bloc's border. 
European Commission President Ursula von der Leyen, after meeting with U.S. President Joe Biden, said Wednesday that the EU and the U.S. are preparing to penalize the regime for orchestrating a "hybrid attack" on the bloc.
"We have to protect our democracies from this kind of cynical, geopolitical power play," she told reporters outside the White House.
With footage of clashes on Poland's frontier with Belarus and EU leaders accusing the country's authoritarian president, Aleksander Lukashenko, of engaging in human-trafficking, the dispute between the Russian and German leaders underscored an escalating crisis. 
"The Belarusian regime's exploitation of migrants against the European Union is inhumane and completely unacceptable," Merkel told Putin in a phone call on Wednesday, her spokesman said. The Russian leader told Merkel that the EU should discuss the issue with Lukashenko, according to a Kremlin readout. 
Putin and Merkel are scheduled to speak again soon, according to an EU official.
The long-brewing conflict between the EU and Lukashenko, spurred by his brutal suppression of opponents in the wake of last year's presidential elections, has transformed into a refugee crisis. Authorities in Minsk are ushering thousands of migrants -- most of whom flew to Belarus -- to the Polish border, where many aim to get to western Europe.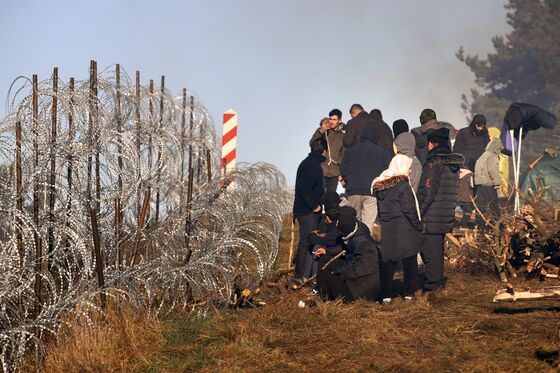 EU ambassadors are expected on Wednesday to approve adding the criteria of aiding and abetting people trafficking as grounds for additional sanctions on Belarus, according to an official familiar with the plans. The bloc is discussing targeting airlines including Russia's Aeroflot and Turkish Airlines in the new package, the official said. New penalties could be announced -- jointly with the U.S. and possibly the U.K. -- early next month, the person said.
"We will widen our sanctions against Belarus, so very rapidly at the beginning of next week, there will be a widening of the sanctions against elements," von der Leyen said. "As far as I'm informed, the United States have prepared sanctions that will be in effect at the beginning of December."
The bloc is seeking to finalize details of the package, including restrictions on Belarus's national airline, Belavia, and 29 individuals connected to the regime, according to EU diplomats. Polish Prime Minister Mateusz Morawiecki called for an emergency summit for the 27-member bloc. EU leaders may hold a virtual meeting on Belarus soon, an EU official said.
"This is a political crisis, created to destabilize the EU," he told reporters in Warsaw after talks with European Council President Charles Michel. "This is a manifestation of national terrorism, revenge by Lukashenko for our support for democratic elections in Belarus."
Polish troops used tear gas to prevent the migrants from entering EU territory, leaving them exposed as an approaching winter in Europe's north pushes nighttime temperatures well below freezing. 
Poland estimated that 4,000 migrants may be in the forests along the border, and even more on route to the frontier area from Belarus's capital.
Russia reiterated pledges of full support for its ally in Minsk again Wednesday, underlining that by sending a pair of Tu-22 strategic bombers on patrol over Belarus. But the Kremlin's account of Putin's conversation with Merkel made clear that he was cool to her calls to intervene in the crisis, saying Europe should deal directly with Lukashenko. 
"It is the German view that the Russian leadership has indeed considerable influence in Minsk," said Merkel spokesman Steffen Seibert. Her previous effort to contact Lukashenko directly last year "was made impossible by the Belarus side," he said.
The EU is also considering targeting companies that lease airplanes involved in shuttling migrants, although officials are debating whether penalties would apply to current contracts or just future ones, one of the officials said. The bloc is also mulling sanctioning the country's insurance sector, the official added. A European Commission spokesperson declined to comment.