Poland's Central Bank Chief Is in Trouble With Political Allies
(Bloomberg) -- Poland's ruling party is growing upset with their ally running the central bank.
Top officials are now publicly chiding Governor Adam Glapinski for the first time over media allegations of exuberant pay for his closest aides. "Appalling" cried Law & Justice Senator Jan Maria Jackowski while Deputy Premier Jaroslaw Gowin said Glapinski is "hiding his head in the sand" by refusing to publish wage information.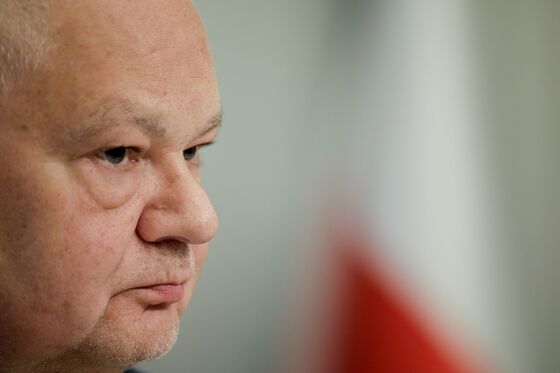 With general elections approaching this fall, support for Glapinski, a close friend of party chief Jaroslaw Kaczynski, is being tested. Newsaper Gazeta Wyborcza reported his main media assistant receives wages and bonuses amounting to 65,000 zloty ($17,300) per month, about 13 times the country's average wage and four times more than the prime minister's base salary.
The backlash from his political patrons comes after more than a month of pressure from the opposition, which has called on Glapinski to resign over his alleged links to a $10 million bribery row at the financial supervision authority when it was led by his close colleague.
The governor has denied any wrongdoing but last week prosecutors questioned him in relation to the scandal. Glapinski's press office didn't answer calls for comment on the allegations over pay.
"I don't know how much truth is in the media reports but this should be clarified," Jacek Sasin, an assistant to the prime minister, told public radio on Monday. "There can't be a situation where people, who perhaps play an important role but nonetheless as a public servant, would earn as much money as we hear. This is a shock to many Poles."
Jolanta Turczynowicz-Kieryllo, a lawyer representing the National Bank of Poland, told the wPolityce.pl web magazine that it was a "serious offence to purposefully and unreasonably" undermine public trust in the institution tasked with keeping a lid on price growth and helping to keep the bank industry stable.
Battling a daily barrage of allegations in the Polish media, the governor blamed political enemies last month for ensaring him in the scandal and suggested there were plans for a "financial coup d'etat" aimed at pushing the European Union member nation to join the euro area against his wishes.
Glapinski, who was appointed to a six-year term as governor in 2016 with the backing of Law & Justice, has kept Poland's base interest rate at a record low of 1.5 percent even as growth topped 5 percent for more than a year. While he has bickered with the government over who should play a leading role in banking supervision, the governor is a vehement public supporter of Law & Justice's economic policies.
With economic expansion set to slow in 2019, derivative traders are starting to bet that the next rate move by Glapinski and his Monetary Policy Council will be a cut.