Poland Risks Rapid Economic Hit If EU Cash Delayed, Economist Warns
Delayed access to European Union funding could take a toll on Poland's currency and economy starting next year, according to Oxford Economics.
Under a "downside scenario" in which the escalating conflict with Brussels sees financing withheld until end-2023 before resuming, the zloty could lose more than 12% against the dollar in the first half of next year, Oxford economist Mateusz Urban estimates.
That would push "inflation up from already elevated levels," he said in an emailed report. "Although curbing the flow of EU funds doesn't derail the near-term recovery, the economic impact is non-negligible."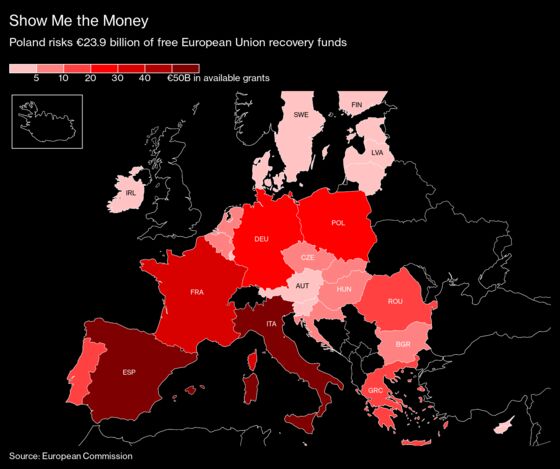 Growth in gross domestic product could be cut by a cumulative 1.4 percentage points over the next two years, with a total output loss through 2026 of 170 billion zloty, equivalent to 8% of economic output, according to Urban. Indications Poland may quit the EU would increase market turmoil, though that possibility is "extremely unlikely," he said.
In fact, the risk of a worst-case outcome may be receding. The European Commission is considering delaying a new mechanism to block budget payments to member states in breach of democratic standards, according to officials familiar with the discussions.