Poland Puts Brave Face on EU Move to Halt Judicial Revamp
(Bloomberg) -- Poland's prime minister reassured his countrymen that the European Union "loves" his nation as the bloc's top court moved to halt the government's key judicial overhaul.
The EU's Court of Justice ordered Poland on Friday to "immediately suspend" measures lowering the retirement age for Supreme Court justices, a provisional step pending a decision expected in 2019. Premier Mateusz Morawiecki confirmed he received a notice from the Luxembourg-based tribunal and that the cabinet would react after "thorough analysis."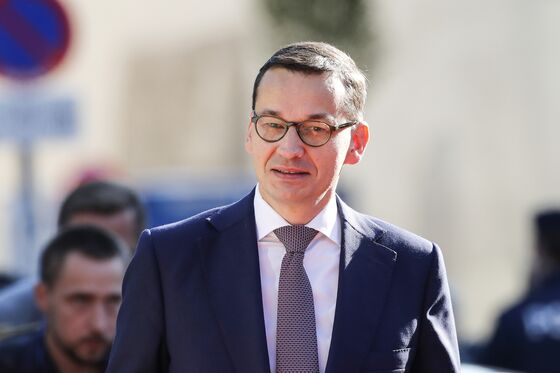 Three years of rule by Morawiecki's Law & Justice party have transformed Poland from a poster child of east Europe's successful embrace of democracy following the collapse of communism to one of the EU's biggest headaches. The zloty was little changed against the euro on Friday, while benchmark government bond yields increased to a one-week high.
"We are convincing our European partners toward our views while maintaining good relations," Morawiecki told reporters in Brussels, where he's attending an EU summit. "We love the EU and the EU loves us. All citizens understand that this a tough game where every nation is defending its interests."
In a historic first, the EU's executive sued Poland last month for eroding the rule of law by liming judicial independence, a view vehemently denied by the government. European Commission Vice President Frans Timmermans said this week that democratic values in Poland have "deteriorated" after authorities sped up nominations of new justices.
In her order, the EU court's vice president, Rosario Silva de Lapuerta, "provisionally grants" all of the European Commission's requests, deciding that the condition of "urgency" in this case has been met.
The controversial law lowers the retirement age for justices, which could force out nearly two-fifths of the top court in what critics have called a political "purge." Separately, judicial disciplinary bodies revamped by the government have started proceedings against judges who publicly criticized court reforms.
Poland's Foreign Ministry said in a statement that the EU Court's final injunction requires a response from Warsaw. The court's decision is therefore "provisional" because it has not considered Poland's position.
The decision comes on the last day of campaigning before Poland holds local elections on Sunday, where the Law & Justice party is seeking to increase its presence in regional councils and the leadership of larger cities in the country of 38 million people.