Poland Keeps Rates on Hold in Defiance of Inflation Spike
(Bloomberg) -- Poland's central bank kept interest rates unchanged, looking past a spike in inflation as new Covid-19 restrictions threaten to stifle economic growth.
The bank kept its main interest rate unchanged at 0.1% for a 10th month, in line with expectations of all but one of 25 economists surveyed by Bloomberg. The zloty remained steady.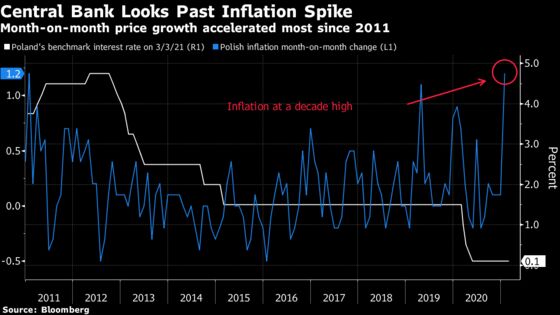 The European Union's biggest eastern economy saw prices jump 1.2% in January from December -- the highest monthly increase in a decade -- amid a rise in taxes and regulated prices. Inflation in year-on-year terms stood at 2.7%, near the policy makers' 2.5% medium-term policy target.
Poland is also grappling with a third spike in Covid infections, with the government shutting schools and shopping malls in one of the country's 16 regions, and two more potentially getting hit with similar restrictions next week.
Poland's economy is recovering after shrinking for the first time in nearly three decades in 2020 because of the pandemic. The central bank responded by introducing a quantitative easing program and reducing the key rate from 1.5% in three steps between March and May.
In December, the National Bank of Poland also intervened to weaken the zloty, a move the monetary authority said on Wednesday it may repeat "to strengthen the impact of the NBP's monetary-policy easing on the economy."
The central bank raised its projections for both economic growth and inflation this year. Gross domestic product is seen expanding between 2.6% and 5.3% in 2021, compared with a previous view of 0.8% to 4.5%. Consumer prices are seen increasing between 2.7% and 3.6% this year, compared with an earlier view of 1.8% to 3.2%.
"The central bank increasingly believes that the crisis isn't going to have a lasting impact on the economy," Bank Pekao SA economists wrote on their Twitter account. "Its subsequent economic projections are more and more optimistic."