Raging Pandemic Sends Half a Million Poles Into Quarantine
(Bloomberg) -- Poland quarantined 503,400 people, the most since October last year, as the government remains reluctant to tighten restrictions that would slow the spread of Covid-19 in the European Union's fifth most populous state.
The surge in the number of people in quarantine comes even as the country's regulations allow the inoculated to carry on with their lives as normal if a member of their household tests positive for Covid. A little over half of the population of 38 million is fully vaccinated, below the EU average. 
Daily infections exceeded 24,000 in the last two days, while the death toll since the start of the pandemic has risen to almost 80,000.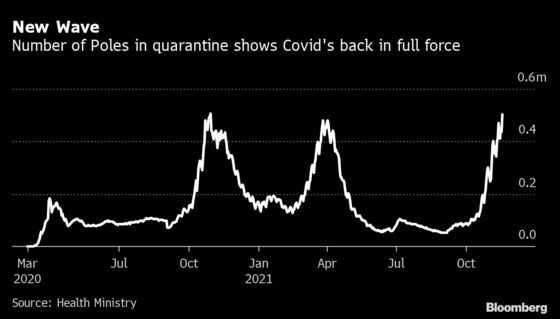 The government has sought to avoid new lockdowns, keeping schools and shopping centers open. It's also at odds over proposed legislation that would ban non-vaccinated citizens from bars, restaurants and public institutions. The ruling coalition led by the Law & Justice party has a slim majority in parliament and relies on support from lawmakers who oppose further pandemic curbs.
Unable to find support in the cabinet, Health Minister Adam Niedzielski asked individual lawmakers to submit in parliament a draft bill that will allow business owners to check the vaccination status of their workers.
Speaking to reporters in Poznan, western Poland, on Thursday, the minister said there were no plans to introduce new restrictions. The growth in new cases is slowing in the most-hit eastern parts of the country and the current wave of infections should peak in late November under the most likely scenario being considered by the government, Niedzielski added.