No Polish Wiggle Room on Judges as EU Court Chief Spells Out Law
(Bloomberg) -- Governments can't ignore judgments from the European Union's highest court, the tribunal's president warned, pouring cold water on the reaction by Poland's nationalist ruling party to an order for it to stop a controversial judicial overhaul.
The Law & Justice party is at the forefront of a push by populists who are challenging the EU's liberal values and has drawn criticism from the bloc after changing courts in a way the EU says undermines judicial independence. The clash played a role in local elections on Sunday, when the party won a smaller-than-expected victory.
A factor in the result was an injunction issued by the European Court of Justice two days before the elections ordering Poland to stop implementing rules aimed at forcing out two fifths of the Supreme Court's justices by lowering the retirement age. Party leader Jaroslaw Kaczynski vowed to fight the order, with his government saying Wednesday it will react after Nov. 4 runoff races for several large cities where the is contending for mayorships.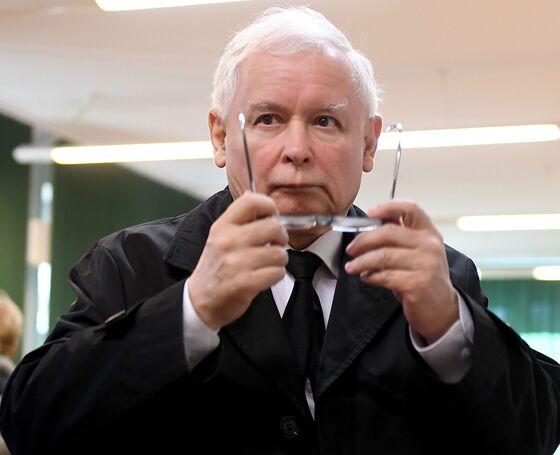 According to EU Court of Justice President Koen Lenaerts, no EU member can contest the tribunal's judgments without putting itself outside of the "backbone of the legal system of the European Union."
"Definitive judgments, have to be complied with, because if you don't comply with that you put yourself outside the legal order," Lenaerts told journalists in Luxembourg on Tuesday in response to questions on the Polish situation. "That's also the case in Germany or in Belgium or in any other member states. If the authorities do no longer comply with the orders given by courts settling litigation, then you are outside the constitutional legal order of that state."
It's not the first time Poland has tried to skirt an EU court judgment after being sued by the bloc. Last year, it said that it wouldn't face fines of 100,000 euros ($114,000) a day for ignoring an order for it to stop logging in Bialowieza, one of Europe's most ancient forests. The EU won the case, and the government stopped the logging.
"Polish authorities have now no choice but immediately and fully comply with the ECJ order," said Laurent Pech, a professor of European law at Middlesex University in London.
Poland's Supreme Court seized on Friday's injunction and called on 23 judges who had been forced into retirement to return to work. The court has resisted the government's attempts to change its leadership and replace its judges en-masse with party loyalists.
While Foreign Minister Jacek Czaputowicz said a change to legislation on Supreme Court was necessary, Presidential Minister Pawel Mucha said he wouldn't "exclude or determine" if such a move was necessary. Kaczynski himself suggested that the government pass new media laws "so that in the last moments before the election, we wouldn't be hit by different sides, so that there's so much less fake news."
Law & Justice says it must revamp the courts so that other changes, ranging from the "re-Polonization" of foreign-owned companies back into state hands to a drive to return the country of 38 million to its traditional Catholic roots, can start working.
Allied with Hungarian Prime Minister Viktor Orban in his pursuit of creating "illiberal democracies" in Europe, it has denounced the current judiciary as a cadre of elites tied to past governments that denies justice to ordinary Poles.