EU Stimulus Plan Hits Snag Over Polish Coalition Discord
(Bloomberg) -- Poland again delayed ratification of the European Union's pandemic stimulus plan, all but assuring that bickering within its ruling coalition will cause it to miss the end-April deadline.
It's "highly probable" that the ratification process will start in early May, Prime Minister Mateusz Morawiecki said on Friday. The package is worth around 800 billion euros ($958 billion) and is a critical plank of the bloc's recovery from the devastating impact that Covid-19 has had on the economy.
The government, which has a slim majority in parliament, has struggled to secure enough votes, because of the objection of a junior coalition party. The premier's admission that the approval will drag beyond the end of this month highlights a deepening split within the ruling alliance and could delay the key element of the EU's effort to bolster its virus-scarred economy.
The party of Justice Minister Zbigniew Ziobro is refusing to back the stimulus, arguing that it will leave Poland on the hook for the debt of other states. The head of the main ruling party Law & Justice and the country's de facto leader, Jaroslaw Kaczynski, has warned that the holdouts are threatening to sink the three-way governing alliance.
Still, Morawiecki projected confidence about the plan's eventual ratification, saying that the ruling party is consulting widely with the opposition and that he isn't "particularly worried" about the country's ability to eventually pass the bill.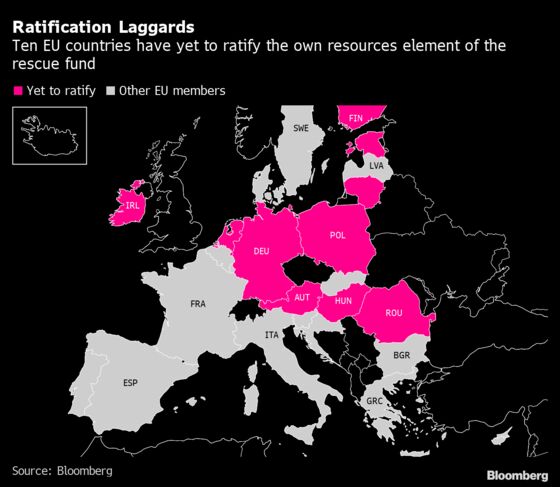 Poland is among 10 countries that have yet to approve the recovery fund, which requires all EU member states to sign off to become fully operational. Any delays would make it difficult for the block to start issuing debt and distribute the pandemic aid.
Germany's top court last month decided to consider objections to the program. Several member states, including Poland, have yet to submit details of how they intend to spend the money, while some of the plans were judged as sub-par.
While "the markets are unfussed," Merrill Lynch economists including Ruben Segura-Cayuela wrote in a note on Friday. "We are nervous."