Poland, Hungary to Discuss Possible End to EU Budget Standoff
(Bloomberg) -- Polish Prime Minister Mateusz Morawiecki will host Hungary's Viktor Orban on Tuesday to discuss a potential fix to the standoff over the European Union's budget that's holding up $2.2 trillion in funds.
Budapest and Warsaw have been discussing a political compromise that would see the EU clarify how a rule-of-law mechanism would be attached to the bloc's seven-year budget, which needs unanimous consent from the bloc's 27 members.
The two countries are opposed to funds being tied to upholding democratic standards that have been at the heart of repeated clashes with Brussels.
Poland and Hungary are close to reaching an agreement with the EU to lift their vetoes, according to two European officials familiar with the discussions who asked not to be identified because the talks are private. The EU earlier threatened to cut the two nations out of the recovery fund altogether if they didn't back down this week, which could cost them billions of euros in aid.
"It may happen that another summit may be needed," Morwiecki told reporters earlier Tuesday in Warsaw, after attacking the EU in an opinion piece published in mainstream Western newspapers. "It may also happen that we'll face long months of budget talks. We're also getting ready for a possible provisional budget -- no scenarios are excluded at this point."
The behind-the-scenes talks are seeking a face-saving way out of the impasse. There's a political risk that Brussels underestimates how far Hungary and Poland are willing to push. There's also the danger that in continuing to ignore the EU ultimatum, the two holdouts overplay their hand.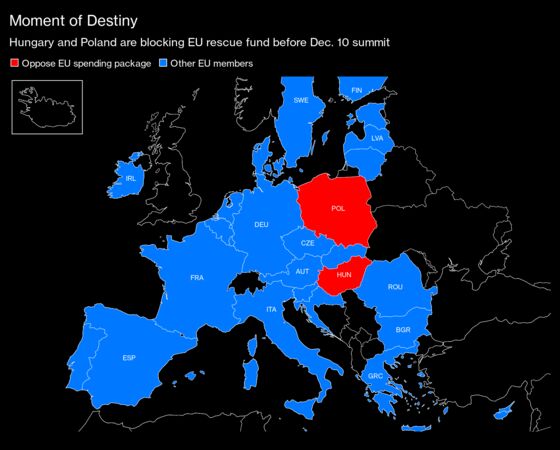 The alternative is a 'Plan B' that other EU leaders, led by German Chancellor Angela Merkel, are willing to unleash that would effectively direct funds to 25 nations and cut Hungary and Poland off. With both nations under EU probes for democratic backsliding, they would be exposed to potentially losing those funds both under the rule-of-law proposal and any workaround that sidelines them.
As the talks progress, Poland's government is sticking with the agreement forged with Hungary to stymie the linking of funds to democratic standards, Morawiecki said. With his former communist nation is by far the biggest net beneficiary of EU funds, he didn't mention the 180 billion euros in funding earmarked for Poland and Hungary in the package.
Hungarian Foreign Minister Peter Szijjarto said there had been no movement after meeting his EU counterparts in Brussels on Monday. "I talked with my Polish colleague ahead of the meeting and we agreed that we were going to stand together," he said.
With nations across the EU reeling from the economic impact of the virus, net contributors to the spending plan such as The Netherlands worry the funds will be used to fund corruption by politicians who've reworked their constitutions, courts and other institutions to tighten their hold on power.
"All member states have also committed themselves to the rule of law as the essential value of the Union," Germany's European Affairs Minister Michael Roth said on Tuesday. "It would be irresponsible to further delay essential support to our citizens."
While Hungary and Poland can block the EU's new increases budget for 2021-2027, they can't block the rule-of-law conditionality. That means that they'll still risk losing funds from leftovers of the current budget.
If they insist on their veto, the EU will be operating under emergency monthly and then annual budgets as of next year, which will be significantly smaller than agreed last summer. Given the shortfall, the emergency budgets will be designed to prioritize payments to others, leaving Hungary and Poland last in line for the meager funds available, an EU diplomat familiar with the ongoing deliberations said.
Meanwhile, the rest of the EU would launch a stimulus plan that that excludes them.