Podemos Appeals to Sanchez to Salvage Spanish Government Vote
(Bloomberg) -- Pablo Iglesias, leader of Spain's Podemos party, appealed to acting Prime Minister Pedro Sanchez to keep talking in a bid to salvage a vote next week on forming a new government.
"I don't want to throw in the towel," Iglesias said in an interview with broadcaster LaSexta Tuesday. "We have the chance to share power, based on the weight that each side has."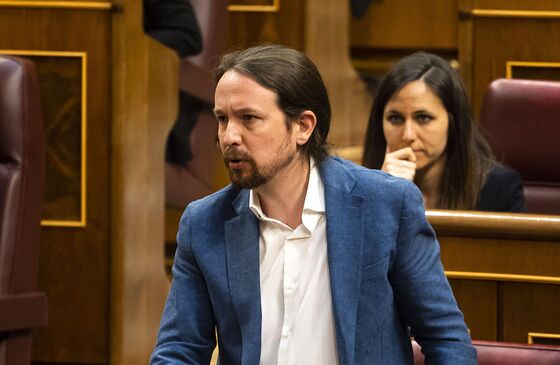 Sanchez's bid to be voted in as prime minister next week in a confidence measure looks set to fail after he accused Podemos of causing talks with his Socialist party to fail by making what he called impossible demands.
The Socialists won general elections in April but fell well short of an absolute majority in parliament, leaving Sanchez reliant on Podemos and other smaller parties if he wants to win the investiture vote set for July 23.
Acting Deputy Prime Minister Carmen Calvo said she doesn't see much chance that Sanchez and Iglesias can patch up their differences ahead of the vote.
"We have to get to the investiture speech and everyone has to assume their responsibility," Calvo told LaSexta. "Iglesias is going to veto Sanchez's investiture."
If Sanchez fails to win next week's vote, Spain's constitutional clock will start counting down toward a repeat election. The premier would have another two months to win a majority before parliament is dissolved and Spaniards go back to the polls.