Pimco Predicts Populist Threat in EU Elections Are Overblown
(Bloomberg) -- Fears of a populist takeover in European Parliament elections have been greatly overstated. Such is the view of Pacific Investment Management Co. whose message to financial markets is simple: don't worry.
In a note to investors, Pimco analysts say the EU's complex governing structure and policy differences across populist parties will limit any impact. "From an investment perspective, higher representation in the parliament of anti-establishment and euroskeptic movements would be a marginal negative factor but we do not view it as a game-changer," they said.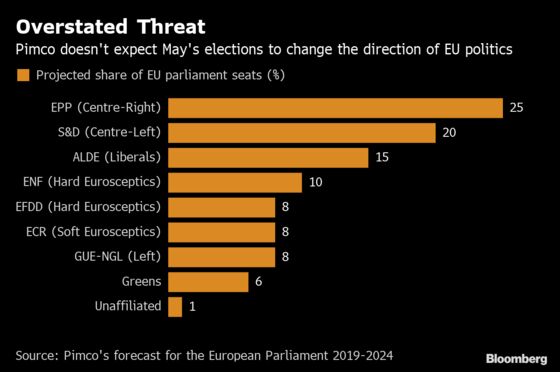 Pimco also expects support for euroskeptic parties to remain well below 50 percent. But the European Council on Foreign Relations has warned that even with a third of seats, anti-European parties could prove an obstructionist force in the Parliament.
The Pimco view is in sharp contrast to that of hedge-fund guru George Soros, who is instead full of doom and gloom: "Europe is sleepwalking into oblivion, and the people of Europe need to wake up before it is too late."
A vocal europhile, Soros's reputation was cemented more than two decades ago when he earned $1 billion by helping to force the pound out of a precursor to the euro.
"The next inflection point will be the elections for the European Parliament," the billionaire wrote in a Feb. 11 opinion piece. "Unfortunately, anti-European forces will enjoy a competitive advantage in the balloting. There are several reasons for this, including the outdated party system that prevails in most European countries, the practical impossibility of treaty change, and the lack of legal tools for disciplining member states that violate the principles on which the European Union was founded."