Philippine Opposition Leader Eyes Presidency, Slams Duterte
(Bloomberg) -- Philippine Vice President Leni Robredo declared her bid for the presidency in the 2022 elections, as she strongly criticized President Rodrigo Duterte's pandemic response and called for a change in the way the nation is governed. 
Robredo, 56, who was elected separately from Duterte in 2016, registered her intention to run as an independent presidential candidate, although she currently chairs the opposition party. In a live-streamed briefing, she called out the administration for supposedly prioritizing self-interest as citizens face hunger, unemployment and lack of health services amid the pandemic.
"This lack of organized leadership is the root of many of our problems. This has to end," Robredo said on Thursday. "Corruption, incompetence, the lack of concern need to be replaced with good and capable leadership." 
Duterte's spokesman said last month that Robredo's criticisms on the government's pandemic response were politically motivated.
Robredo's vice-presidential pick and running mate will be Senator Francis Pangilinan, another top official of the opposition party, ABS-CBN News reported.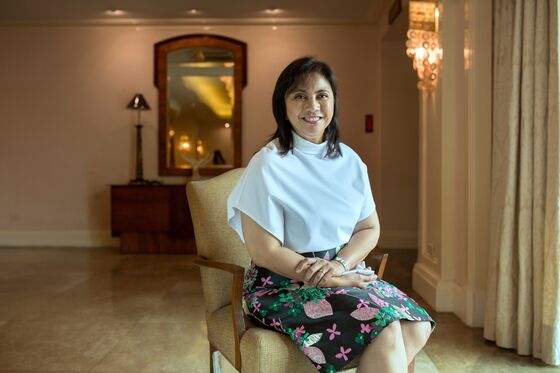 Robredo joins a crowded contest for the Philippine presidency next year, with other candidates like Senator Manny Pacquiao, Manila Mayor Isko Moreno and former Senator Bongbong Marcos earlier declaring their bids. President Duterte also earlier said that his daughter, Davao City Mayor Sara Duterte, will run to succeed him. The next president will oversee the Southeast Asian nation's recovery from the coronavirus pandemic.
A lawyer and social activist with an economics degree, Robredo has been among the most critical voices against Duterte, calling out his administration for "selling out" to China, and describing his drug war "a massive failure." 
Robredo entered politics as a congresswoman in 2013 -- a year after her husband Jesse, a former Cabinet official, died in a plane crash. She's had short stints as housing chairwoman and anti-drug panel head under Duterte. Without a Cabinet post, the second woman elected as Philippines vice president has been visiting remote areas, tapping the private sector and partnering with local officials to help in coronavirus testing and vaccination.