Billionaire Philip Green Facing Formal Bid to Strip Him of Knighthood
(Bloomberg) -- Philip Green, the billionaire owner of Arcadia Group Ltd., is facing a formal bid to strip him of his knighthood after reports that he tried to silence former employees who alleged he sexually and racially harassed them.
George Freeman, a Tory member of Parliament, said on Wednesday that he will refer Green to the Honours Forfeiture Committee, a panel that examines whether public honors should be revoked. Green has categorically denied all the claims against him.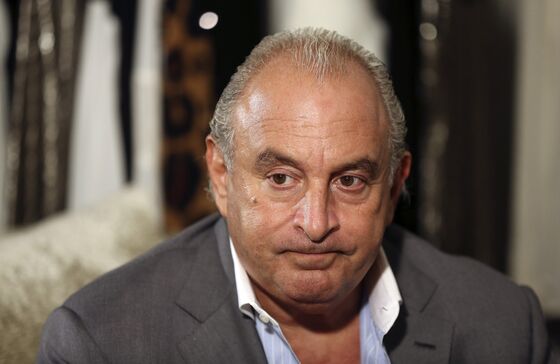 If the panel rules against Green, the committee would then pass its advice to Prime Minister Theresa May, who in turn would ask Queen Elizabeth II to revoke the honor. It was given in the monarch's name and allows Green to add "Sir" in front of his name.
The Arcadia boss has brought "the system of honors and business into disrepute by being found to have behaved disgracefully, letting down the vast majority of businesses who set the highest standards," Freeman told the House of Commons earlier on Wednesday. He later said by text that he will refer Green to the committee.
Knighthoods are awarded for a "major contribution" to the nation at a ceremony at Buckingham Palace by the Queen, or one of her family acting in her name, in which the recipient is touched by a sword on both shoulders.
It's not the first attempt by parliamentarians to strip Green of his title. In 2016, 100 lawmakers tried to get his knighthood revoked but the attempt wasn't legally binding on the government.