Fujimoris Lose Support in Peruvian Vote to Renew Congress
(Bloomberg) -- A split new congress in Peru and a dramatic collapse in support for the opposition Fujimori family may smooth the path of President Martin Vizcarra as he tries to pass economic and judicial reforms in his final 18 months in power.
A quick count of voting sheets by polling company Ipsos Peru confirmed exit polls showing the country's unicameral Congress will be divided between as many as 10 parties, with none having a majority.
The decline of the Fujimoris and other traditional parties will make it easier for Vizcarra to govern since it will tend to weaken opposition to him in congress, said Andres Calderon, a political scientist at Universidad del Pacifico in Lima.
"The fragmentation is good for Vizcarra in the sense that no one in Congress is going to have enough power to confront him effectively," he said by phone.
Keiko Fujimori's conservative Popular Force party finished in sixth place with 7%, Ipsos said. That's a far cry from the 2016 election when the opposition movement founded by her father, disgraced former President Alberto Fujimori, won 36%, granting it a majority in Congress.
The centrist Popular Action party led with 10% while a small party known as Frepap, which hasn't had a seat in Congress for decades, got nearly 9%.
Many Peruvians who voted for Fujimori in 2016 have defected to a handful of smaller parties, who somewhat share her conservative and anti-establishment stance, said Hernan Chaparro, head of polling at the Institute of Peruvian Studies.
These include the We Can Peru party and Union por el Peru, a nationalist party led by Antauro Humala, a former army major who was jailed in 2009 for the killing of four policemen.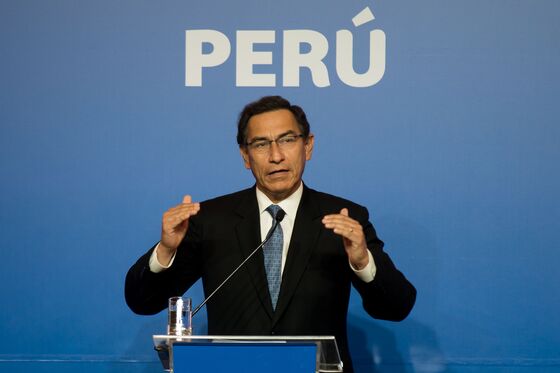 "It expresses this feeling of rejection toward traditional parties," Chaparro said by phone from Lima. "The previous order is broken, and what we have left is the broken pieces."
The split Congress will tend to be more supportive of the government's reform agenda than the previous one, he said. Vizcarra dissolved the legislature four months ago to end a long-running feud with Fujimori's party over anti-graft reforms.
Lawmakers are expected to debate government proposals to curtail parliamentary immunity and introduce state financing for political parties as part of the pending political reform.
Vizcarra became president in 2018 after his predecessor, Pedro Pablo Kuczynski, became embroiled in the continent-wide graft scandal centered around Brazilian construction giant Odebrecht. Vizcarra's push to clean up the judiciary and political parties fueled battles with the opposition-controlled legislature that ended in its dissolution.
Apra, a traditional party that has been a constant in Peruvian politics for decades, largely through deceased former President Alan Garcia, didn't obtain enough votes to have representation in Congress, Ipsos said.
Keiko Fujimori was jailed in 2018 for using her parliamentary majority to obstruct the Odebrecht probe, and was released 13 months later. A court is set to rule Tuesday whether to return her to jail. She denies any wrongdoing.
All told, left and center-to-left parties obtained 48% of the votes, with right and center-to-right parties gathering 42% support and a centrist party obtaining the remaining 10%, according to a report by Goldman Sachs.
"The fact that Congress will likely be significantly more fragmented and that the main opposition party has likely lost most of its seats suggest the balance of power will be distributed more evenly, leading to lower tensions between Congress and the government in the remaining 18 months of the current administration," Goldman Economist Paulo Mateus wrote in a research report.
Votes don't translate automatically into congressional seats, so the ultimate composition of Congress won't be known until the official results are declared, Mateus added.
Peruvians will return to the polls in April 2021 to elect a new president and lawmakers. Vizcarra has said that he won't seek re-election.