Peru Toughens Entry Rules for Venezuelan Migrants After Surge
(Bloomberg) -- Peru toughened its rules for Venezuelans entering the country, following similar moves by other governments in the region struggling to cope with a surge in the number of migrants fleeing the escalating humanitarian crisis in the Caribbean country.
Venezuelans will no longer be able to enter Peru using their national I.D. card and will need to show a passport starting Aug. 25, Interior Minister Mauro Medina told reporters in Lima on Friday. The government continues to "open its arms" to Venezuelan migrants, Medina said, adding that the measure was aimed at preventing the use of fake I.D cards.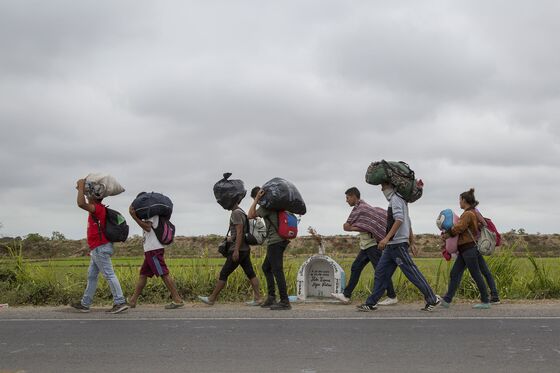 Peru is the latest country in South America to step up controls on the thousands of Venezuelans fleeing their country every day to escape hyperinflation, criminality and shortages of basic food and medicine. On Thursday Ecuador said that Venezuelans will need a passport to enter the country. Colombia imposed similar restrictions in February. The Chilean government also introduced a special visa for Venezuelans earlier this year, which also requires them to have a passport.
Tension in Peru over the rising number of immigrants came to a head earlier this month after the arrest of five members of a Venezuelan gang that was planning to rob a bank in Lima. The government promised tighter border checks in the wake of the incident.
"It's normal for a country to want to identify the Venezuelan citizens entering the country, for our security and theirs," Medina said. About a fifth of the Venezuelans entering Peru each day do so using their I.D. cards, he said, and the document is easier to falsify than a passport.
Peru has received one of the largest influxes of Venezuelan migrants in the region after its government introduced a permit allowing them to work, study and access basic public services. The migrants can continue to request the permit when they arrive, Medina said.
An estimated 1.6 million Venezuelans were living abroad in 2017, up from 700,000 in 2015, and about half were in South America, according to the United Nations. The World Bank has urged governments to see the economic benefits of immigration while offering help to deal with the inflows.
Still, the numbers leaving Venezuela continue to grow. The daily total of Venezuelans entering Peru via its northern border with Ecuador reached almost 5,200 on Aug. 11, surpassing the previous record of 3,941 set in January.
Ecuador decreed a state of emergency in three provinces last week after the number of arrivals surged to 4,200 a day. But Gina Benavides, Ecuador's public ombudswoman, called on President Lenin Moreno's government to cancel the passport requirement, which she said is illegal and "aggravates the conditions being experienced on all border posts."
Between 17,000 and 25,000 Venezuelans entered Ecuador before the rules changed in the two countries and they may be in transit to Peru, said Eduardo Sevilla, head of the Peruvian immigration authority.
Most Venezuelans struggle to get their hands on official documents due to a shortage of materials and rampant corruption. Desperate travelers now pay as much as $1,500 to fixers and immigration authorities to cut red tape and expedite the process.
Geoff Ramsey, an analyst with the Washington Office on Latin America, a U.S.-based rights group, said via Twitter that the latest steps by Peru and Ecuador will encourage undocumented migration.