Peru's Highest Court Rules Dissolution of Congress Was Legal
(Bloomberg) -- Peru's highest court ruled President Martin Vizcarra acted constitutionally when he dissolved Congress last year, clearing up doubts about the legality of the move less than two weeks before the election of a new legislature.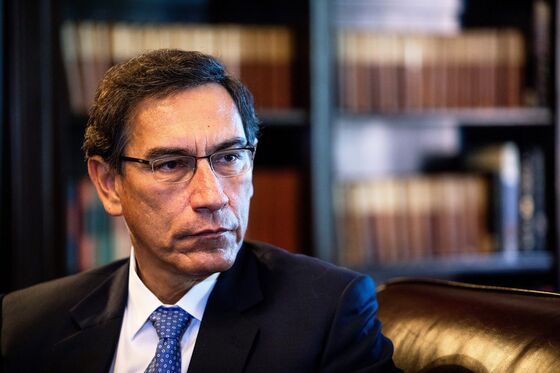 The seven-member Constitutional Court voted 4-3 to reject a lawsuit filed by opposition lawmakers who said the dissolution was illegal, according to video broadcast via the court's social media Tuesday. All justices agreed that the election of a new Congress must go ahead as scheduled on Jan. 26.
Vizcarra shut down Congress on Sept. 30 and called a fresh vote following months of political gridlock as his administration sparred with the opposition-controlled legislature over measures to fight corruption. A series of graft scandals implicating former presidents, judges and lawmakers has roiled the country over the past few years. The dissolution of Congress, the country's least popular institution, sent Vizcarra's approval rating soaring, though opposition parties labeled the move a "coup."
Court President Marianella Ledesma said the dissolution of Congress was a "traumatic" event in the country's political life, though she considered the move constitutional.
Vizcarra said dissolving Congress eased political tension and helped avoid the sort of mass unrest that's affected neighboring countries in recent months.
An adverse ruling might have encouraged lawmakers to investigate Vizcarra for dissolving the last Congress. Some former lawmakers seeking re-election say he should be impeached.
Four of the seven justices said Vizcarra was entitled to dissolve Peru's unicameral Congress after his cabinet lost a no-confidence vote.
Justices will have one week to draft a document explaining their vote, Ledesma said.