Peru's Interim Leader Faces Calls to Quit as Crisis Deepens
(Bloomberg) -- Peru's interim president is under pressure to quit just days after taking office, as the country's political crisis deepens five months before elections.
President Manuel Merino is facing calls to resign after a deadly protest Saturday against the impeachment of his predecessor, Martin Vizcarra, over bribery allegations. Party leaders are meeting Sunday morning to decide which lawmaker will assume the presidency of Congress and the government.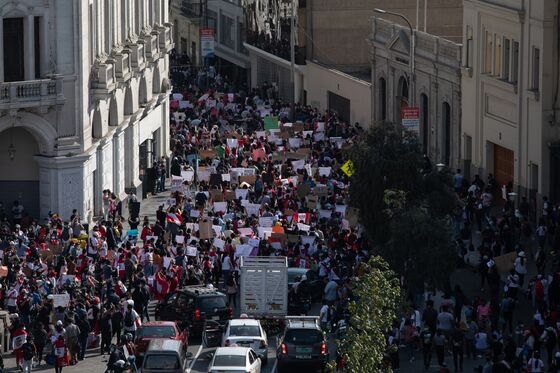 Vizcarra remains one of the country's most popular leaders in decades, with polls indicating that almost 80% of Peruvians opposed his ouster. The political upheaval could cloud prospects for elections due in April and further hamstring an economy that contracted 30% in the second quarter on fallout from the Covid-19 pandemic.
Further political gridlock and protests also threaten to hamper the fight against the coronavirus in a country with one of the highest per-capita death rates from Covid-19 in the world.
Thousands of Peruvians, many of them university students, defied social-distancing rules and marched through the center of Lima on Saturday to protest Vizcarra's impeachment and call for Merino to quit.
While the demonstrations were largely peaceful, there were some violent clashes with police, and two men died from gunshot wounds, RPP radio reported, citing a police statement.
In a radio interview earlier on Saturday, Merino said the protests were a response to Peru's economic crisis. Other ministers say the demonstrations are politically motivated.
The legislature will meet on Sunday to likely decide Merino's fate. The country's 130-seat Congress needs 66 votes to remove him and pick a replacement.
Luciano Lopez, a constitutional lawyer, told RPP that Congress should elect Merino's replacement from among the legislators who voted against impeachment. Peru's 130-seat single chamber Congress voted 105-19 to remove Vizcarra on Nov. 9.
Supporters of Vizcarra say his ouster was politically motivated by lawmakers who chafed under his campaign to fight graft. Corruption has displaced crime as Peruvians' biggest concern in recent years.
Luis Valdez, acting head of Congress, told RPP radio that Merino should resign immediately. "The population demands a different type of representative," he said.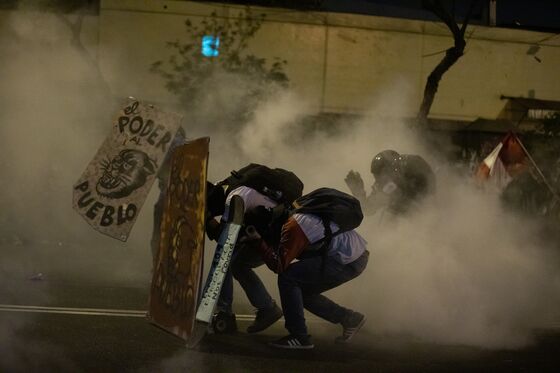 (An earlier version of the story was corrected to reflect that elections will be held in five months.)