Peru Regulator Moves to Tackle Capital Market Concentration
(Bloomberg) -- Peru's securities regulator is planning steps to curb concentration in the local industry amid concerns it's limiting growth of capital markets and may become a threat to financial stability.
The groups that own the country's top banks also control the largest mutual fund managers and some of the main brokerages, increasing chances that a problem at one of the main lenders could ripple through the financial system, said the regulator's head, Jose Manuel Peschiera. That also translates into less competition between banks and the capital markets as sources of financing, he said.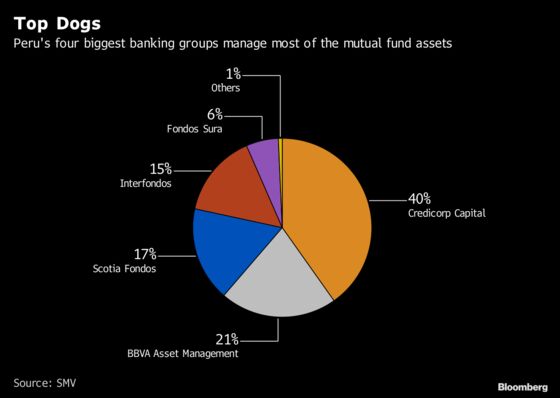 "It's a clear conflict of interest," he said in an interview from his office in Lima. "Banks won't admit they prefer lending over the capital markets, but it happens. It's where they earn more."
As a first step, the securities regulator, known as the SMV, will oblige brokerages and mutual fund managers to appoint an independent director to their boards. The main objective is to bolster good corporate governance in the securities industry, while also helping further capital market development, Peschiera said.
The regulator plans to publish rules for appointing independents by the end of next month and aims to bring the new requirement into force in the first half of 2019.
Peschiera took the helm of the SMV last year after working at Credicorp Ltd, the country's biggest financial services firm.
The International Monetary Fund in a July report urged Peru to tackle structural constraints in the equity and fixed-income markets, which remain "shallow and illiquid.''
Peschiera said he's also concerned that most of the $8.8 billion managed by mutual funds is invested in timed bank deposits and little goes to the capital markets. That's partly because companies are opting for bank loans and don't issue much short-term debt. "It's a vicious circle.''
The regulator, which is financed by the securities industry, will see its revenue fall by about 30 percent next year after it cut levies for issuers, investors and brokers to encourage market activity, he said.
Peschiera said policy makers should be meeting periodically to monitor financial system risk, particularly because of the level of concentration. Peru ought to follow other countries and form a financial stability committee, comprised by the finance ministry, the central bank, the banking regulator and the SMV.
"The issue of concentration can't be solved by the SMV alone. It's much more complex."
The country's financial integration within the Pacific Alliance trading bloc should also help boost competition in areas such as mutual funds. Finance ministers from the four member countries are also looking at aligning their taxes for the capital markets, he said.