Peru Raids Biggest Illegal Mines to Stem Amazon Gold Rush
(Bloomberg) -- Peru moved to shut down a major illegal gold mine hub deep in the Amazon after years of expansion destroyed swathes of pristine rain forest and displaced cocaine as the country's biggest illicit trade.
The government deployed 1,500 officials from the police and armed forces to an area known as La Pampa in the Madre de Dios region of southeast Peru on Tuesday to begin closing down mine operations. The crackdown will last two weeks and aims to eradicate mining, as well as other activities such as drug trade and human-trafficking.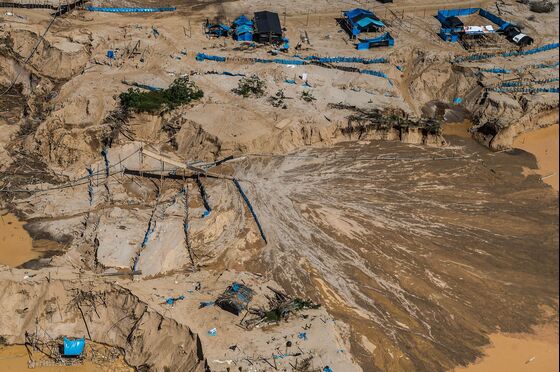 For decades an area of small-scale alluvial gold mining, La Pampa expanded rapidly in recent years to become the country's biggest source of illegal gold, as criminal gangs financed operations on an industrial scale. The Madre de Dios region produced 10 million grams of gold last year, accounting for 7.1 percent of Peru's gold output, according to the Energy & Mines Ministry.
"Criminal mining causes tremendous damage," said Pablo de la Flor, general manager of Peru mining and energy industry group SNMPE. "The government's decision to act firmly in the face of this terrible phenomenon is a step in the right direction."
About 96,000 hectares -- an area roughly 20 percent larger than New York City -- has been deforested in Madre de Dios between 1985 and 2017, according to a study by Wake Forest University, the World Wildlife Fund and the United States Agency for International Development. About ten percent of the deforestation occurred in 2017 alone.
The expansion has turned dense forest into a barren wasteland laced with mercury, and operations have begun encroaching upon the Tambopata reserve that's one of the world's most biologically diverse areas.
Speaking to reporters from La Pampa on Tuesday, Interior Minister Carlos Moran said police will be stationed in the area to bolster security over a six-month period. The goal is to transform the local economy with the introduction of sustainable activities over the next two years, he said. Three military bases will also be set up.
The Women's Ministry has taken into custody more than 30 teenage girls as young as 14 years who worked in brothels and bars in La Pampa.
"There need to be alternative sources of income created for families that depend on this activity, but we can't ignore the tremendous damage and terrible destruction caused by illegal mining," De la Flor said by phone from Lima.