Peru President Ousted in Surprise Impeachment Vote
(Bloomberg) -- Peru's President Martin Vizcarra was forced out of office when congress unexpectedly voted to impeach him, plunging the nation into political crisis as it recovers from one of the world's deepest economic slumps.
Legislators voted 105-19 in favor of removing the president over corruption allegations, a larger-than-expected tally that surprised observers in the politically volatile country. Vizcarra said in a national address that he won't challenge the decision through legal channels, and will leave the presidential palace on Monday night.
The head of congress, Manuel Merino, will be sworn in as interim president at 10 a.m. on Tuesday.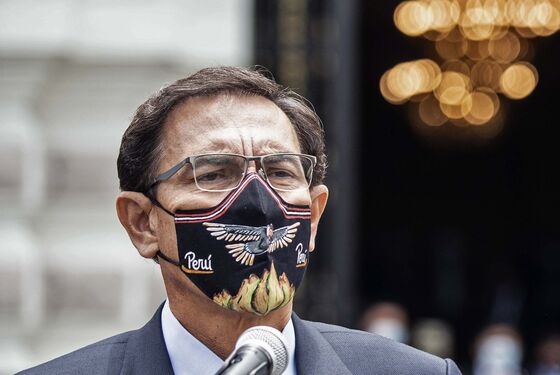 Markets were shut when the vote took place, but Vizcarra's ouster will likely heighten investor fears about the nation's political volatility. Merino will be the third president in a single five-year term.
"I can't see how this won't be perceived badly by investors," said Alonso Segura, who served as finance minister from 2014 to 2016. "The only question is how badly."
Peru's currency and stocks will sell off and country risk will rise, pushing up borrowing costs, he said in a phone interview. Peru's stock market opens at 8.30 a.m. local time.
Yields on Peru's Eurobond maturing in 2050 rose four basis points to 2.78% by 9:36 a.m. in London, the highest since September, while the those on 2027 notes climbed two points to 1.64%. The yield premium of Peru's dollar bonds over U.S. Treasuries widened by four basis points, according to JPMorgan Chase & Co. indexes.
There are "few pure investment-grade countries" in the region and "Peru's bonds are among the tightest in Latin America," said Todd Schubert, head of fixed-income research at Bank of Singapore. "There is little room for policy missteps or political instability imputed in current valuations."
Most analysts had expected Vizcarra to survive the vote, as he survived the previous impeachment attempt in September. His removal comes just five months before the next general election, which is scheduled for April.
Recent polls showed that most Peruvians opposed the ouster. Protesters gathered in the San Martin square, a few blocks from congress, some holding banners saying "no to impeachment".
One lawmaker who voted for the motion was punched in the face near congress, apparently by a member of the public. In other parts of Lima, people stood at their windows banging pots in protest.
The economy shrank 30.2% in the second quarter, the biggest crash suffered by any major nation, and Peru has also been among the countries worst hit by deaths from Covid-19.
Read More: In Peru, Sharp Rebound Ahead of Weaker Long-Term Growth
Prosecutors are investigating allegations that Vizcarra took 2.3 million soles ($642,000) in bribes from companies building infrastructure projects in the Moquegua region, where he was governor from 2011 to 2014. He denies any wrongdoing, and said the accusations were designed to undermine trust in his administration.
"I leave the palace as I entered it, with my head held high," Vizcarra said in his national address.
As well as the corruption allegations, lawmakers mentioned everything from the economic crisis to the management of the pandemic as reasons to oust Vizcarra -- who doesn't have a party of his own to defend him.
Vizcarra's exit follows four years of tumult since the 2016 election, during which the opposition censured ministers and forced out Vizcarra's predecessor, Pedro Pablo Kuczynski.
Read More: OAS Concerned About Peru Stability on Eve of Impeachment Vote
Vizcarra dissolved congress in September last year after months of clashes with lawmakers over his anti-graft program, and a transitional legislature was elected in January. Kuczynski resigned in 2018 on the eve of his second impeachment vote.
The cost of protecting Peru's bonds against default is similar to Chile's even though the latter has stronger credit ratings, five-year credit-default swaps show.
Peru's bonds are rated A3 by Moody's Investors Service and BBB+ by S&P Global Ratings, while Chile has A1 and A+ assessments from the rating companies.