Peru President Dissolves Congress as Opposition Cries Foul
(Bloomberg) -- President Martin Vizcarra dissolved Peru's opposition-controlled Congress and called a parliamentary election in a bid to end the political gridlock over his plans to stamp out corruption in the Andean country.
The move was generally well received by a population tired of graft scandals gripping the political class, with Congress being among the country's most discredited institutions. Yet lawmakers called it a "coup," suspended the president and swore in Vice President Mercedes Araoz as the new leader. Crucially, the heads of Peru's armed forces and the police pledged their support for Vizcarra.
The looming constitutional crisis could further weigh on an economy that's suffering from political uncertainty and trade tensions, with analysts recently cutting growth forecasts for this year and next. Local markets at least for now seemed able to weather the crisis -- government bonds dropped in price but still paid one of the lowest yields among Latin American peers.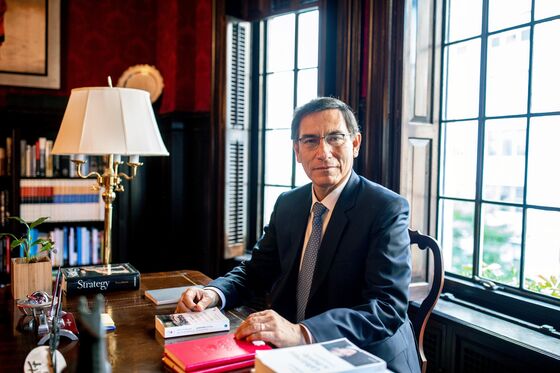 While Latin America is rife with past experiences of leaders clinging on to power and shutting down legislatures, Vizcarra had been pushing for the exact opposite. As his proposals to fight corruption in the political and judiciary systems made no progress in Congress, he then suggested early presidential and parliamentary elections for 2020, saying he wanted to give the country a fresh start.
As lawmakers didn't support that idea either, Vizcarra made a bold move, calling a vote of confidence on his cabinet. Peru's constitution entitles the president to dissolve the unicameral Congress if lawmakers vote against two cabinets. In September 2017, then cabinet chief Fernando Zavala lost a confidence vote.
But lawmakers postponed his request for a confidence vote and instead proceeded with the election of justices to the country's top court -- in a process that Vizcarra had denounced as lacking legitimacy and transparency.
The decision to elect the first of six new justices Monday was a defacto rejection of the cabinet's confidence motion, Vizcarra said in a televised address, adding that he was using his constitutional right to dissolve Congress. He called the measure a "democratic solution" to Peru's political gridlock.
Police officers surrounded Congress on Tuesday, while nearby a crowd of people jeered lawmakers seeking entry to the building. Only members of 27-strong standing committee were allowed in by police.
Karina Beteta, one of three vice presidents of Congress, said lawmakers will appeal to the constitutional court and the Organization of American States. "Congress isn't dissolved because what's happened is a coup. We were democratically elected at the polls and that has to be respected," she told reporters.
The OAS secretary general's office said the constitutional court should make a pronouncement on the legality and legitimacy of the decisions made by the executive and legislative branches. The decision to call parliamentary elections is a "constructive step" that will allow the Peruvian people to have final say, according to a statement on Twitter.
Still fresh in the minds of many Peruvians is Alberto Fujimori's decision to dissolve Congress in 1992, in what became known as an auto-coup. Back then, the former president assumed all legislative powers and suspended much of the constitution. Lawmakers were arrested and tanks were stationed outside parliament and the headquarters of the judiciary. He was convicted in 2009 for his role in two massacres and remains in jail.
Peru has been gripped by political turmoil since the general election of 2016 when Pedro Pablo Kuczynski scraped through a runoff vote for the presidency while his opponent, Keiko Fujimori, daughter of Peru's former autocrat, won a majority in Congress. A former vice president, Vizcarra took office roughly 18 months ago when Kuczynski resigned on the eve of an impeachment vote.
Opposition parties have dragged their feet on government reforms designed to stamp out corruption. Championing the corruption fight buoyed Vizcarra's popularity at a time when many political parties and their leaders are implicated in a continent-wide bribery scandal uncovered by the so-called Carwash probe.
"Congress really deserved this dissolution," said Carlos Rivera, director of the Legal Defense Institute, a Lima-based rights group. "It's an irreversible decision politically. It's an act that should mark the close of one era in our country and open a new, less contaminated one."
ANDEAN INSIGHT: Prolonged Growth Weakness Raises Regional Risks
The political standoff is unlikely to prevent economic growth from recovering next year, even if it derails fiscal reform or budget plans, Quinn Markwith, an analyst at Capital Economics, wrote in an e-mailed note to clients.
Vizcarra called for a new congress to be elected on Jan. 26, with a standing committee of lawmakers fulfilling legislative duties until the vote.
In a Sept. 25 interview with Bloomberg News, Vizcarra said closing congress was an extreme scenario, and said the best option was for the opposition to back his proposal for an early general election next year, one in which he wouldn't stand as a candidate. Lawmakers voted down the bill last week.
Vizcarra swore in his former justice minister, Vicente Zeballos, as cabinet chief to replace Salvador del Solar after he lost the confidence vote on Monday. Finance Minister Carlos Oliva and Foreign Minister Nestor Popolizio won't form part of the new cabinet, according to Gloria Montenegro, a lawmaker who was Vizcarra's minister for women. The cabinet unanimously backed the president's decision to dissolve Congress, she told Canal N.
The network broadcast video showing Luis Carranza, a former finance minister who heads the Latin American development bank CAF, entering the government palace.