Peru Now World's Deadliest Covid Hot Spot: Latam Virus Wrap
(Bloomberg) -- Peru has set another grim record by reporting the highest number of deaths per capita from the coronavirus.
With 28,277 confirmed deaths from Covid-19, or 86.2 per 100,000 inhabitants, Peru on Thursday overtook Belgium as the nation with the most victims, according to data compiled by Johns Hopkins University, the IMF and Bloomberg. It comes a week after the South American nation of 33 million posted the world's deepest economic contraction in the second quarter following a drastic lockdown.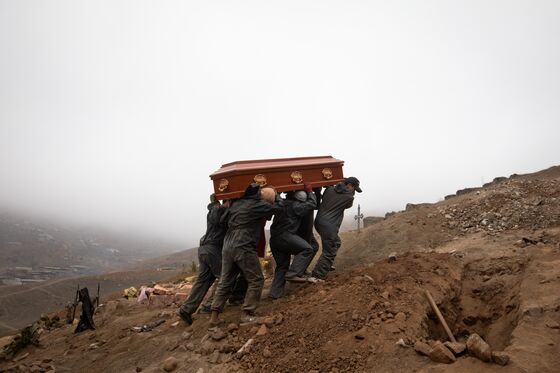 More than five months after reporting its first case, Peru has one of the world's worst outbreaks by other measures, too. Over the past seven days, no country has posted more cases. It's also among nations with most fatalities by population size over the past week.
The outbreak has been so bad that as much as a quarter of Lima's 12 million population may have already had the virus, according to a government study published last month. Officials warn the country's real death toll may be close to double the official figure.
READ MORE: Peru Says 50,000 Have Likely Died From Coronavirus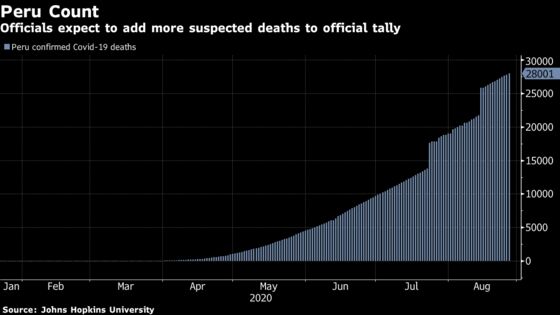 Yet there are signs Peru may be past the worst of the pandemic. While the country reported 153 deaths on Thursday, the number of hospitalized patients had fallen 9.2% from a peak reached 10 days earlier.
Despite locking the entire country down early and aggressively, the government has struggled to get control of its outbreak. Cases surged after lock-down measures were eased in July, prompting a ban on social and family gatherings and also delaying plans for reopening the economy.
Elsewhere in Latin America:
Brazil's economy chief, facing growing pressure to loosen the purse strings during the coronavirus crisis, will stay in the job as long as President Jair Bolsonaro keeps the country on track to fiscal austerity, according to a government official familiar with the minister's thinking.
Rio de Janeiro Governor Wilson Witzel was removed from his post amid an investigation into the embezzlement of funds earmarked to fight the pandemic, the second-largest outbreak behind the U.S.
Mexico reported 518 additional deaths from Covid-19, bringing the toll to 62,594, the government said. Covid-19 cases rose 6,026 to 579,914, although the government has avoided wide-scale testing throughout the pandemic.
Colombia passed Mexico overnight to be the country with the 7th-highest case count globally.
In Argentina, test positivity stands at 42%. The nation reported a 2.7% rise in total cases, up from the 2.4% seven-day moving average, to 380,292. Infections are surging there despite some of the earlier and most aggressive lock-downs in Latin America.
| Country | Cases | Deaths |
| --- | --- | --- |
| Brazil | 3,761,391 | 118,649 |
| Peru | 621,997 | 28,277 |
| Colombia | 581,995 | 18,467 |
| Mexico | 579,914 | 62,594 |
| Chile | 404,102 | 11,072 |
| Argentina | 380,292 | 8,129 |
| Bolivia | 113,129 | 4,791 |
| Ecuador | 111,219 | 6,471 |
| Dominican Republic | 92,964 | 1,630 |
| Panama | 89,982 | 1,948 |
| Guatemala | 71,856 | 2,685 |
| Honduras | 57,669 | 1,803 |
| Venezuela | 42,898 | 358 |
| Costa Rica | 37,292 | 397 |
| El Salvador | 25,415 | 702 |