Peru Opposition Leader Fujimori Jailed in Odebrecht Probe
(Bloomberg) -- Peruvian opposition leader Keiko Fujimori will be jailed for up to three years while she's investigated for illicit campaign donations, a court ruled Wednesday.
Judge Richard Concepcion ordered Fujimori's imprisonment, arguing there was serious suspicion she committed aggravated money laundering, according to images broadcast on state television. Her defense said she'll appeal the decision.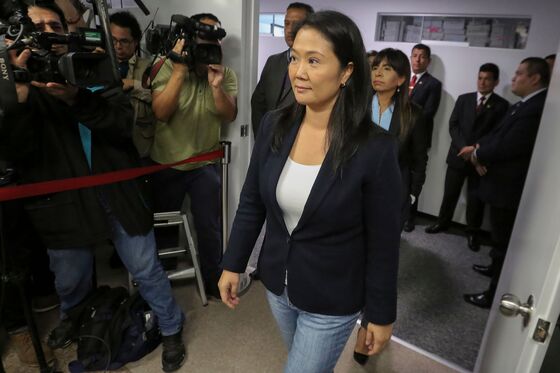 Prosecutors allege Fujimori's party, the biggest in Peru's Congress, disguised $1 million from Brazilian builder Odebrecht SA as donations from individuals and fundraising events for her 2011 presidential campaign. They also accuse Fujimori and her inner circle of using contacts in the judiciary to interfere in the investigations against her. The former congresswoman, who's the daughter of former autocrat Alberto Fujimori, hasn't been formally charged. She denies the allegations and says they are politically motivated.
Speaking to reporters outside the courthouse in downtown Lima, Fujimori's husband Mark Vito Villanella described the hearing as an "express lynching." Defense lawyer Giulliana Loza said the ruling was "a clear demonstration of judicial partiality."
State television showed footage of Fujimori being transferred to a holding cell at the headquarters of judiciary, while supporters and opponents gathered outside.
Judge Concepcion said the measure was proportional, arguing Fujimori poses a flight risk and previously attempted to obstruct the investigation by threatening witnesses and using her party to gain sway over a supreme court judge and the attorney general. In addition, Fujimori directed a demolition campaign against the lead prosecutor in the case, he said.
Fujimori faces up to 13 years in prison if convicted of laundering.
The jailing of the prominent opposition figure is set to reshape Peru's political landscape and even the balance of power, which has been tilted in Congress' favor for the past two years. Constant confrontation between executive and legislative branches has undermined business confidence and damped the economy's recovery.
Fujimori lost the 2016 presidential race to Pedro Pablo Kuczynski by less than 50,000 votes. Still, her party, Popular Force, became a political powerhouse by winning 73 of the 130 seats in Peru's unicameral Congress, the most ever for an opposition party.
The party used its majority to protect allies, force ministers from office and eventually seek Kuczynski's ouster. Fujimori was considered even more powerful than Kuczynski's successor, Martin Vizcarra, in an August public poll by Datum Internacional.
The opposition leader was arrested unexpectedly Oct. 10 as she attended a summons to face questioning. An appeals court overturned the detention order a week later.
Fujimori's surprise arrest left Popular Force in disarray. In recent days, she has struck a conciliatory tone, recognizing her party had made errors and pledging to focus less on political control and more on legislative initiatives.
The two-time presidential candidate is unlikely to find much sympathy among Peruvians. Fujimori's approval rating held at a record low 13 percent, according to an Ipsos poll this month, while 75 percent of those questioned considered her guilty of money laundering.
The graft probe centered on Odebrecht, which has doled out millions of dollars in bribes around Latin America, and has ensnared Peru's last four heads of state. Kuczynski resigned in March on the eve of an impeachment vote after facing allegations that a company he owned took money from the Brazilian builder. Ex-President Ollanta Humala and his wife Nadine Heredia, who are also accused of receiving campaign donations from the Brazilian firm, were freed from jail in April after winning an appeal.
Meanwhile, Fujimori's arrest on Oct. 10 came a week after a court ordered the imprisonment of her father after his political pardon was overturned in a separate case.