Judge Orders Arrest of Former Peru President Alberto Fujimori
(Bloomberg) -- A Peruvian court on Wednesday ordered the arrest and imprisonment of former autocrat Alberto Fujimori after overturning a presidential pardon that he received barely nine months ago, in yet another political twist for Peru and its ex-leader.
Judge Hugo Nunez accepted a challenge against the pardon that had been filed by families of victims of 1992 death squad massacres directed by Fujimori. The judge ordered Fujimori be located and sent to jail, Peru's judiciary said via Twitter. The government said it will respect the ruling.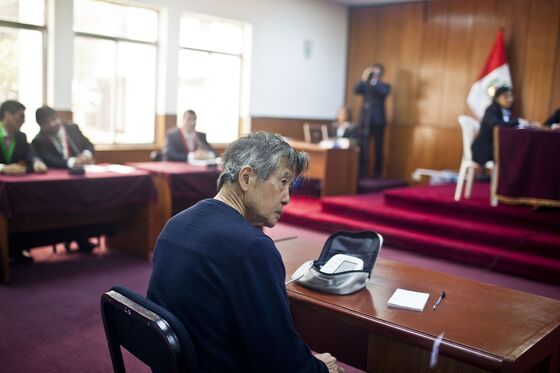 Fujimori, who led Peru from 1990 to 2000, was sentenced to 25 years in jail in 2009 for commanding the killing of alleged terrorist sympathizers. Last December, then President Pedro Pablo Kuczynski approved the 80-year-old's release after doctors said he was suffering from a "progressive, degenerative and incurable" illness and that jail endangered his life. Opposition lawmakers accused him of releasing Fujimori to avoid impeachment, a claim which Kuczynski denied. He resigned in March on the eve of another impeachment vote.
The former president's daughter Keiko Fujimori, who leads the main opposition party in Congress, said the family will appeal the ruling overturning the pardon. She had criticized the pardon at the time, saying it appeared politically motivated, fueling speculation that she saw her father as a threat to her leadership.
"This decision is unjust, it's inhumane, and will be appealed," Fujimori told reporters outside her father's home in Lima. She added her family is the victim of "hate and cruelty" on the part of "political enemies."
The government respects the independence of the judiciary "which implies complying with its decision unconditionally" the Justice Ministry said in a statement via Twitter.
At the time of the December pardon, Kuczynski administration officials said Fujimori's heart condition was the biggest concern and denied any political motivation. Still, the move sparked street protests in Peru and an international outcry.
The United Nations' High Commissioner for Human Rights called it a "slap in the face" to victims and a "major setback for the rule of law in Peru."
Following the ruling, Fujimori was transferred to a private clinic in Lima, accompanied by his son, Kenji Fujimori. Police and court officials arrived shortly afterward carrying documents including his arrest order, according to Canal N network.
'International Obligations'
Fujimori's defense has asked the Supreme Court to suspend the judge's ruling, arguing his heart condition means there's a risk of sudden death should he return to jail, El Comercio reported.
The country has been wracked by political turmoil over the last year as Kuczynski survived one impeachment proceeding only to quit in March before congress could mount a second effort. His successor, Martin Vizcarra, has clashed with Congress as he grapples with one of the country's biggest corruption scandals.
Vizcarra last month put his cabinet to a vote of confidence to congress -- the second since 2016 -- that could have triggered new parliamentary elections had lawmakers not stepped back from the brink.
A divisive figure in Peru, Fujimori is credited with defeating terrorist groups and taming hyperinflation while manipulating institutions to win an illegal third term in office. He's set to face trial for ordering six death-squad killings in Pativilca, north of Lima, in 1992.
The pardon "is incompatible with the Peru's international obligations, including the American Convention on Human Rights," according to a copy of Wednesday's ruling posted on the judiciary's website.
Amnesty International said the court's decision confirms that "the rights of victims must be above political decisions."