Peru Anti-Graft Referendum Boosts Vizcarra And Punishes Congress
(Bloomberg) -- Peruvians backed President Martin Vizcarra's anti-graft platform while barring lawmakers from serving consecutive terms in a closely-watched referendum.
With 91 percent of the ballots counted nationwide, voters overwhelmingly supported government proposals to revamp judicial appointments and implement tighter rules for political campaign financing while rejecting the addition of an upper chamber to Peru's unicameral Congress. The outcome of Sunday's vote was in line with expectations, and the ban on reelection means current legislators will leave office in July 2021.
Vizcarra proposed the referendum in July in response to a series of scandals involving former presidents, opposition politicians and senior magistrates. Since taking office roughly eight months ago, he's won acclaim for leading an anti-corruption drive and confronting an unpopular, opposition-controlled Congress that critics say was obstructionist and Peruvians considered one of the country's most corrupt institutions.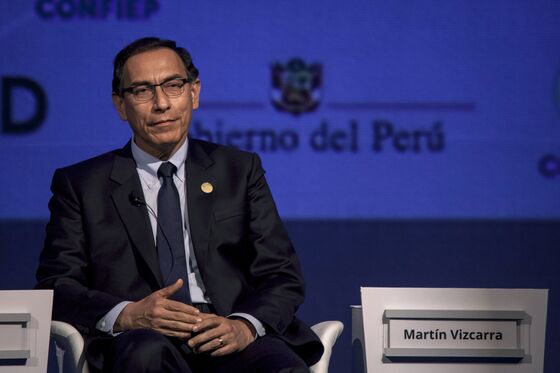 "He's now a much stronger political figure whereas Congress is practically a lame duck," said Jose Carlos Requena, an partner at Lima-based political research group 50+1.
The president said he'll announce what steps the government will take to implement the changes demanded by voters. "This event fills us with satisfaction, optimism and commitment to continue working," Vizcarra told reporters late Sunday.
The former regional governor from the south of Peru was elected vice president in 2016 on the ticket of Pedro Pablo Kuczynski, a Wall Street veteran who resigned in March amid allegations he sought to buy votes to avoid impeachment.
Vizcarra later withdrew his support for the legislation creating two chambers in Congress after lawmakers introduced amendments that would restrict the government's ability to hold votes of confidence and dissolve parliament.
Investors will now likely look to see how Vizcarra uses his political capital to both pass reforms such as changes to labor legislation and also spur infrastructure projects, Citigroup Inc. analysts said in an emailed note to clients.
"There may be a space for Vizcarra to implement important reforms before his term ends in July 2021," Requena said. "He needs to present his vision to the country.''