Pentagon Chief Defends $715 Billion Budget GOP Calls Inadequate
(Bloomberg) -- The Pentagon's $715 billion budget proposal is sufficient to meet threats from a rising China to climate change and future pandemics, Secretary of Defense Lloyd Austin said Thursday, even as Republicans called it insufficient.
A day ahead of the formal submission of President Joe Biden's $6 trillion government-wide spending plan for fiscal 2022, a hearing before the House Defense Appropriations panel provided the first official debate over the proposed Defense Department budget. It would be 1.6% more than the $704 billion enacted for this year but would amount to a decrease of about 0.4% in real terms adjusted for inflation.
The budget "adequately allows us to prepare for the next fight. It in fact does provide the ability to go after the capabilities that we need," Austin said Thursday. It will include "probably the largest-ever investment" in research and development while paring outmoded weapons systems, he added.
It's "biasing the future over the present, slightly," General Mark Milley, chairman of the Joint Chief of Staff, testified. The budget proposal seeks to deter China and Russia by advancing hypersonic weapons and bolstering the U.S. Navy fleet with ballistic missile submarines and unmanned ships.
But committee Republicans said the modest funding increase for the year that begins on Oct. 1 could make competing with China more challenging in theaters such as the South China Sea or a potential conflict over Taiwan. "We're beginning to lose our critical competitive edge in many domains," Representative Hal Rogers of Kentucky said.
In written testimony, Milley said China is the U.S. top geostrategic security challenge but that war with the Asian nation is "not inevitable."
"We need to keep our relationship at competition, not conflict," Milley said. "This is best done through integrated deterrence where the United States remains militarily strong relative to China and we retain military overmatch in all the various domains of war."
Milley also sought to assuage concerns over the immense cost of modernizing the U.S. nuclear arsenal, a politically contentious issue.
"Modernization of our nuclear forces, weapons complex, and requisite nuclear command, control, and communications (NC3) capabilities are a high priority," Milley said in his written presentation. He said Pentagon projections show modernizing nuclear weapons will peak at 7% of the department's budget in 2029. He argued that's less costly than previous nuclear efforts, when nuclear recapitalization cost 10.6% of the budget in the 1980s, and 17% in the early 1960s.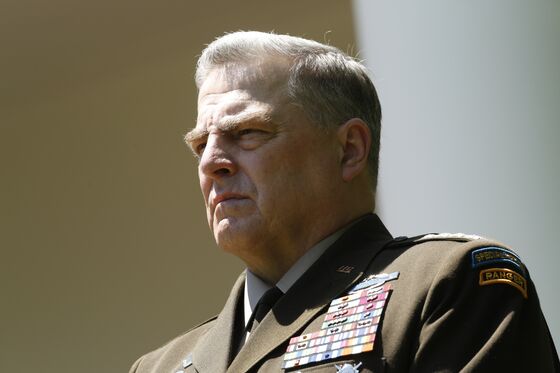 The general endorsed plans to drop some older "legacy" systems, a move sure to face resistance from lawmakers whose constituents build those weapons. "Continuing to purchase and maintain legacy equipment takes needed defense dollars away from the acquisition of systems that are needed for modernization," he said.