Pentagon Chief Sees U.S. Forces at Ideal Levels in South Korea
(Bloomberg) -- Acting Defense Secretary Pat Shanahan said American troop levels in South Korea are right for their current mission and the U.S. wouldn't "unnecessarily erode the readiness we need."
The comments, in an interview at the Pentagon, were the most definitive response so far from President Donald Trump's administration to speculation the president might agree to reduce the roughly 30,000 U.S. troops in South Korea as part of a broader agreement with North Korean leader Kim Jong Un. Denuclearization talks in Hanoi between Trump and Kim broke down Thursday.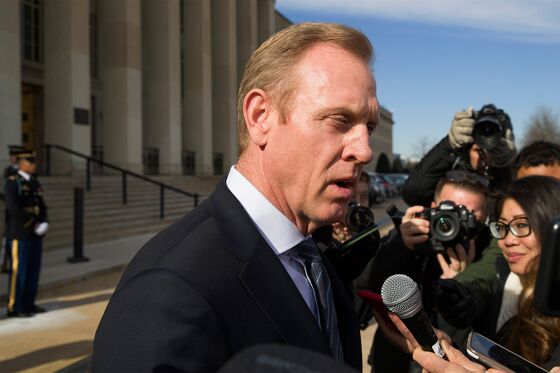 "I believe the force posture we have is ideally suited for the current mission," Shanahan, who became acting secretary after Jim Mattis resigned at year-end over Trump's policy on Syria, said Thursday.
While Trump has vowed to bring home most troops from Syria and is backing a push for a peace accord with the Taliban in Afghanistan, changing the balance of forces in South Korea would come with its own set of complications. The president has focused much of his diplomacy with Seoul on getting President Moon Jae-in's government to pay more for U.S. forces based there.
Since early last year, the U.S. has delayed or downsized several major annual drills with South Korean forces at Trump's demand. Asked how long the U.S. could continue to hold off without affecting readiness, Shanahan said that the Defense Department has found the "right mix of readiness exercises" to keep U.S. forces prepared by working with his U.S. commander for the Korean Peninsula and the Joint Chiefs of Staff.
Smaller joint exercises are set to continue in March, Shanahan said. Those drills are going forward "per plan," he said. "No change to the plan."
After the breakdown of talks with North Korea on Thursday, Trump repeated his position that the major joint exercises, which involve tens of thousands of troops and flying bombers from Guam, were too expensive.
Read more: Trump Signals U.S.-South Korea Drills to Stay on Hold
"I was telling the generals -- I said: 'Look, you know, exercising is fun and it's nice and they play the war games,'" Trump said in Hanoi. "And I'm not saying it's not necessary, because at some levels it is, but at other levels it's not. But it's a very, very expensive thing. And you know, we do have to think about that too."
While not saying how long major drills could be suspended, Shanahan, a former Boeing Co. executive, said the Pentagon is "always evaluating the effectiveness of the exercises and the optics, if you will, in terms of making sure that what we're doing support our military and diplomatic objectives."