Investors Cheer Brazil Pension Bill and Brace for Long Drama
(Bloomberg) -- Investors applauded a plan to overhaul Brazil's pension system while bracing for congressional drama that's likely to rival the longest and most intricate Netflix series.
Amid plenty of fanfare, President Jair Bolsonaro personally delivered the proposal to Congress on Wednesday, after a difficult few days for his government. The plan holds out big rewards, including estimated savings of up to 1.2 trillion reais ($320 billion) in 10 years, but its potentially tortuous progress will keep investors on edge for months.
In a televised address on Wednesday evening, the president said that an overhaul of the pension system was necessary to prevent its collapse and that the proposed changes would be fair for all. "Rich and poor, public and private sector workers, all will follow the same rules in terms of age limits and contribution times," he said.
At stake is the sustainability of Brazil's public finances and the future of Latin America's largest economy. Financial markets will likely seesaw as odds of approval of the reform rise or fall, and the current optimism that has fueled a rally in Brazilian assets may fade depending on how much the bill gets delayed or watered down.
"That's a good proposal, the challenge now is to get it approved," said Joaquim Kokudai, partner at JPP Capital in Sao Paulo. "The savings figure was confirmed and that's very good, but the government's ability to negotiate is a question mark."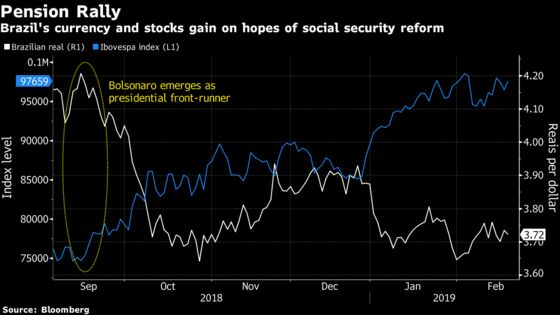 Doubts about Bolsonaro's ability to secure congressional backing increased in recent days after the dismissal of Secretary General Gustavo Bebianno rattled his administration. In efforts to move past the crisis, the government prepared a big push for the reform, including an advertising campaign and a nationally televised address by the president later on Wednesday. Meanwhile, Economy Minister Paulo Guedes was sent to pitch the proposal to governors and other political leaders.
Facing four floor votes in both houses of Congress and several committee debates to clear, the bill is unlikely to be approved by lawmakers before August -- if it's approved at all. Labor unions organized protests against the reform in the center of Sao Paulo on Wednesday in an indication that public opposition may represent an additional hurdle.
"Best-case scenario in terms of timing would be for the bill to be approved by the lower house in June and by the Senate in August, which looks very complicated," said Tania Escobedo, a strategist at RBC Capital Markets LLC. She was the most accurate forecaster for the real in the first half of 2018, according to Bloomberg rankings.
Escobedo expects the Brazilian currency to face volatility in the next few months, and to eventually weaken to 4 per dollar when investors revise down what she sees as overly optimistic assumptions regarding the scope and timing of the reform. On Wednesday alone, the real has swung between gains of 0.8 percent and losses of 0.3 percent.
The potential market correction isn't negligible. The real has gained more than 10 percent while the benchmark Ibovespa index has jumped over 30 percent since Bolsonaro emerged as the presidential front-runner last September, boosting bets on the reform's approval. Some 250 deputies currently back the proposal -- short of the 308 needed to secure its approval in the lower house, according to Vice President Hamilton Mourao.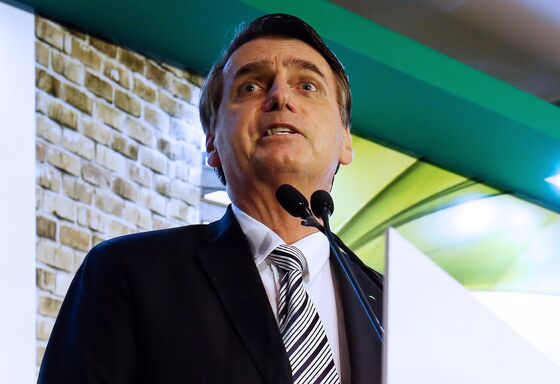 If successful, however, Bolsonaro could set Brazil on the path to recover a coveted investment grade the country lost in 2015, due to its rampant public debt.
Markets will be satisfied if the reform ensures savings of more than 700 billion reais and disappointed with a result below 500 billion reais, Goldman Sachs' chief Latin America economist Alberto Ramos wrote in a note to clients. He expects the final figure to be between 500 billion and 600 billion reais after concessions in Congress.
"Savings of that magnitude would be slightly positive and, to some extent, already priced in," he said.