Pence Urges Trump's Re-Election With Law-and-Order Battle Cry
(Bloomberg) -- Vice President Mike Pence went to the birthplace of the "Star-Spangled Banner" Wednesday to plant a flag in America's culture wars, offering an unequivocal defense of police and his administration's handling of racial unrest even as turmoil again gripped the nation.
Depicting President Donald Trump as a bulwark against those threatening "law and order on the streets of this country," Pence praised Trump's handling of the coronavirus, national security and the economy. He accused Democratic nominee Joe Biden of being weak and wrong throughout his political career, so much so that his election would pose an existential threat to America itself.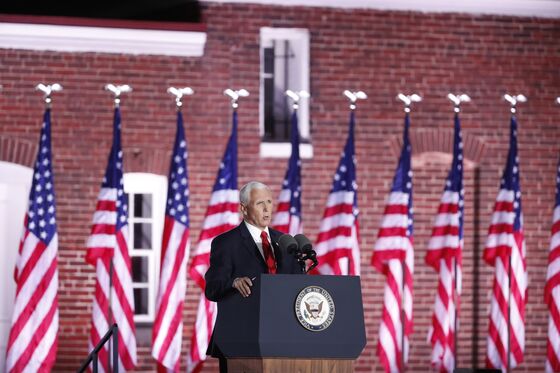 "The truth is: Our economic recovery is on the ballot. Law and order are on the ballot," Pence said. "The choice in this election is whether America remains America."
The speech was an unapologetic outreach to the president's base from one of his possible GOP successors in 2024, fanning notions of outrage and grievance that have been the trademark of Trump's short but successful political career. It capped the third day of a Republican National Convention that started off with a markedly different tone, highlighting widely diverse voters who are largely outside the president's usual group of supporters.
They included the nation's first openly gay cabinet member, Black Americans, a Millennial congressional candidate and several female White House officials and lawmakers. Each argued that the president was more empathetic and caring than he might outwardly appear -- an emerging theme of the convention as Trump's campaign attempts to stop the erosion of his support from 2016 that has left him trailing Biden nationally.
Kayleigh McEnany, Trump's press secretary, recalled how Trump would routinely ask her how her new baby was doing when she started working for him. "The same way President Trump has supported me, he supports you," she said. "I see it every day."
Added outgoing presidential adviser Kellyanne Conway: "He confides in and consults us, respects our opinions, and insists that we are on equal footing with the men."
Just moments later, Pence's job was to portray Trump as standing unbowed against the racial unrest playing out on the nation's television screens. The vice president's remarks at Fort McHenry came amid protests in Kenosha, Wisconsin, over the case of Jacob Blake - a Black man repeatedly shot in the back by a police officer - and the subsequent killing of two demonstrators, allegedly by a teenage gunman who espoused pro-police and pro-Trump views on social media.
Pence never mentioned Blake by name, and dismissed claims that the nation's law enforcement ranks were guilty of systemic racism. He accused Biden, who worked in government for more than 40 years, of advocating "the very policies that are leading to violence in America's cities."
"The hard truth is you won't be safe in Joe Biden's America," Pence said.
Pence suggested Biden would try to defund the police -- which Biden has explicitly opposed. Biden on Wednesday said the video of Blake's shooting "makes me sick" and that he supports the rights of peaceful protesters but rejects the need for violence.
"Protesting brutality is a right and absolutely necessary. But burning down communities is not protest, it's needless violence, violence that endangers lives, violence that guts businesses and shutters businesses that serve the community. That's wrong," Biden said.
Pence's remarks seemed designed to rally the president's existing supporters ahead of a tough re-election contest just over two months away. But they risked hardening perceptions -- particularly among moderate or independent voters -- that the administration has looked to exploit rather than heal racial divisions while highlighting chaos and division that have grown under Trump's watch.
That danger appeared particularly acute after police on Wednesday arrested an Illinois teenager whose social media account featured multiple posts praising law enforcement and evidence that he attended one of the president's political rallies. Prosecutors believe that the 17-year-old shot three demonstrators in Kenosha, killing two.
The White House released a statement largely echoing a presidential tweet saying the administration was coordinating with Wisconsin Governor Tony Evers, a Democrat, to increase the number of National Guard troops dispatched to manage demonstrators.
That response – combined with Pence's display at Fort McHenry – largely echoed the administration's stance throughout a summer that saw mass demonstrations following the killing of George Floyd in the custody of Minneapolis police, with critics arguing the White House has been primarily concerned with projecting an image of "law and order" toughness and demonizing the protests.
After the vice president's remarks, Trump joined Pence for a performance of the National Anthem. Disabled veterans in the front row were shown rising to their feet, in implicit criticism of athletes who have knelt during the song's performance to protest police brutality. Earlier Wednesday, professional basketball and baseball players chose not to play scheduled games in protest of the Blake case, with some NBA teams saying they thought the remainder of the season should be shut down.
Polling underscores the deep partisan splits on issues of racial equality. While a majority of Democrats – 55% - say there hasn't been enough attention to the issue of discrimination, some 81% of Republicans say there's been too much, according to a CBS News poll released this week.
And while a plurality of registered voters - 44% - say there's been too much focus on discrimination, 55% of those surveyed say they agree with the ideas expressed by the Black Lives Matter movement.
On the issue of athletes kneeling during the National Anthem, 58% said the act was an acceptable form of protest according to a version of the same CBS News poll taken late last month.
At the convention Wednesday, a number of Black Trump supporters argued against perceptions of the president as indifferent to the plight of African Americans. Former civil rights activist Clarence Henderson praised Trump for the funding he secured for historically Black colleges and universities and passing criminal justice reform. Former NFL player Burgess Owens, now running for Congress, said that before the pandemic Black and Hispanic Americans had "enjoyed record low unemployment and unprecedented prosperity."
The emphasis on women echoed the third night of the Democratic convention, where a number of top female Democrats spoke before Kamala Harris's acceptance speech. Other Republican speakers included South Dakota Governor Kristi Noem, another possible 2024 contender; second lady Karen Pence, and New York congresswoman Elise Stefanik.
Trump has sought to erode Biden's advantage in recent weeks with presidential actions targeting the former vice president's support, particularly among women living in the suburbs.
Last week, Trump announced a posthumous pardon for the women's suffrage leader Susan B. Anthony, who was convicted of voting illegally before women won the right to vote. And Trump has sought to appeal to suburban women with dire warnings about unrest reaching their neighborhoods.
Pence also argued that Trump's stewardship of the pandemic was under-appreciated, despite the death of more than 179,000 Americans and an economy plunged into recession, criticizing Biden for depicting the country as enduring a period of "darkness" as the coronavirus raged. The vice president touted the U.S. testing program, distribution of personal protective equipment, and progress toward a vaccine to cure the novel virus.
"Last week, Joe Biden said 'no miracle is coming,'" Pence said. "What Joe doesn't seem to understand is that America is a nation of miracles."
Trump's emergency management will also face another immediate test, with Hurricane Laura, a Category 4 storm threatening the U.S. Gulf coast.
The National Hurricane Center said sustained winds of 145 miles per hour had been observed, with the storm expected to hit the Texas and Louisiana coast and cause a storm-surge that could penetrate as far as 40 miles inland.
With all but Pence's speech pretaped Wednesday night, few speakers discussed Hurricane Laura. The vice president acknowledged that attention among many Americans was divided, and said the administration was working closely with authorities in the impacted states.
"Stay safe, and know that we'll be with you every step of the way to support, rescue, response, and recovery in the days and weeks ahead," Pence said.